Trump Admits Ivanka's Life Would Be "So Much Easier" If He Weren't Her Father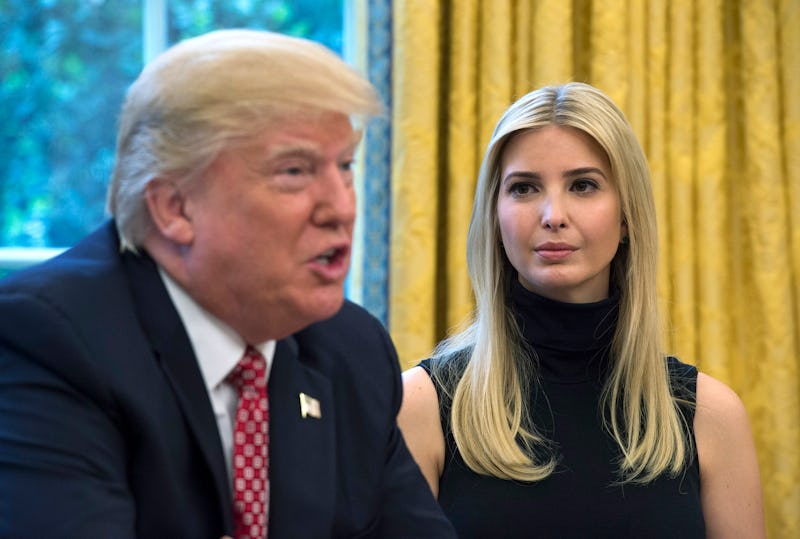 Pool/Getty Images News/Getty Images
On Saturday, President Donald Trump announced at the G20 Summit that the U.S. would be pledging a sum of $50 million to a World Bank initiative headed by his daughter Ivanka Trump. As he spoke about the Women Entrepreneurs Finance Initiative, Trump said Ivanka's life would be "so much easier" if he weren't her father. "That might be the only bad thing she has going if you want to know the truth," Trump added.
The World Bank initiative Ivanka is spearheading focuses on connecting female entrepreneurs in developing nations with funding and mentors. Already, it has raised $325 million globally, with $50 million coming from the U.S. as well as pledges from other countries such as Germany, the United Kingdom, Saudi Arabia, the Netherlands, Japan, China, South Korea and the United Arab Emirates. Ultimately, the goal is to exceed $1 billion in funds.
Arguably, having the president of the United States as her father and the financial and political privilege therein gives Ivanka a huge leg-up on other women creating initiatives. Nonetheless, while expressing his support for the initiative, Trump said Ivanka's life would be easier if they weren't related, and made it clear that he believes she'd face more success were it not for him.
"I'm very proud of my daughter Ivanka, always have been from day one. I have to tell you that. If she weren't my daughter it would be so much easier for her," Trump said, while expressing his support for the fund.
Regardless of how world leaders feel about Trump himself, Ivanka's proximity does in fact garner her visible privilege. When Trump briefly stepped out during the G-20 summit, Ivanka momentarily took his place at the table to speak with Jim Yong Kim, the president of the World Bank.
A White House official told NBC News, "Ivanka was sitting the back and then briefly joined the main table when the President had to step out and the President of the World Bank started talking."
The official did go on to add that, "When other leaders stepped out, their seats were also briefly filled by others." However, some pointed out how unusual it was that Ivanka briefly sat in for her father since the replacement of heads of state in those situations typically falls to government officials or senior officials, according to The Washington Post.
Despite the potentially questionable optics of the president's daughter taking such liberties, Angela Merkel, the Chancellor of Germany defended Ivanka sitting in for her father, claiming it was in line with Ivanka's duties at the White House.
"Ivanka Trump was part of the American delegation, so that is something that other delegations also do, and it is very well known that she works in the White House and that she is also engaged in certain initiatives," Merkel told reporters.
When it comes to notions of political nepotism, and the ways Ivanka's unique position reflects it, it's helpful to look at recent history. In 1967, soon after John F. Kennedy appointed his 35-year-old brother Robert, as attorney general, Congress passed the 1976 anti-nepotism law. This was explicitly passed as a measure to prevent presidents and public officials from prioritizing family members politically. It reads:
A public official may not appoint, employ, promote, advance, or advocate for appointment, employment, promotion, or advancement, in or to a civilian position in the agency in which he is serving or over which he exercises jurisdiction or control any individual who is a relative of the public official.
Given this precedence, and the ways in which Ivanka is gaining political access from her father, it's worth noting that being Trump's daughter is in fact a huge, ethically questionable advantage.