This Trump Adviser Said Flu Shots Aren't Necessary If A Person Just Has Faith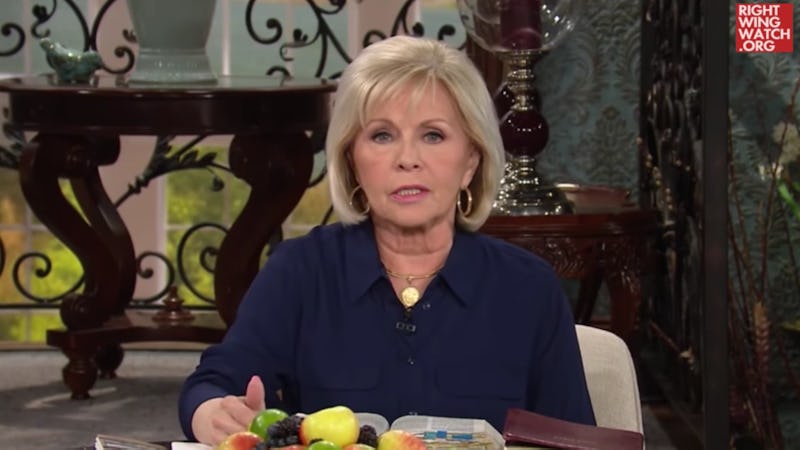 YouTube/Right Wing Watch Blog
A controversial minister who serves on Trump's evangelical advisory board recently appeared in a video posted to the Right Wing Watch Blog to make a surprising claim about the flu. Trump evangelical adviser Gloria Copeland said flu shots aren't necessary as long as you just believe in God.
Copeland opened her video (viewable on RWW's YouTube channel) by saying "We don't have a flu season. We've got a duck season, a deer season, but we don't have a flu season"; as it continued, she claimed that when someone tells you "everyone is getting the flu," they are threatening you and you shouldn't believe them.
"We've already had our shot," Copeland said. "He bore our sicknesses and carried our diseases — that's what we stand on. And by his stripes, we were healed."
Copeland, along with her husband, Kenneth, co-founded the Copeland Ministries in Texas. Her statements about the flu are especially notable because the couple serves on Trump's evangelical advisory board, meaning her thoughts on the flu season — the worst the United States has seen in a decade — could end up in the president's ear.
The president's campaign announced the evangelical board in January 2016 in a statement.
The formation of the board represents Donald J. Trump's endorsement of those diverse issues important to Evangelicals and other Christians, and his desire to have access to the wise counsel of such leaders as needed.
In the clip, Copeland began to pray for anyone who has already gotten the flu, asking God to "heal them now from the top of their head to the soles of their feet." And that's when she declared that "Jesus himself gave us the flu shot. He redeemed us from the curse of flu."
She also suggested that repeating, "I will never have the flu," will help prevent someone from contracting the virus — "Inoculate yourself with the word of God," she urged.
Many states have reported a higher number of deaths as a result of the flu this year. In Arkansas alone, 122 people have already died from the illness — that's a significant spike compared to 2014 to 2015, when the state saw 110 deaths from the flu. States like California have also seen a rise in flu-related deaths. In fact, every state, except for Oregon and Hawaii, is currently experiencing widespread flu — and experts are saying the flu season hasn't even peaked yet.
"This season continues to surprise us," Arkansas Department of Health official Dr. Dirk Haselow told Little Rock CBS-affiliate KTHV. "Our levels appear to be on par with what was seen in 1968. One of the worldwide pandemics of the flu." (About 34,000 people died in the United States during the Hong Kong Flu in 1968.)
In 2018 so far, there have been 53 pediatric flu-related deaths nationwide.
"Our latest tracking data indicate that flu activity is still high and widespread across most of the nation and increasing overall," Dr. Anne Schuchat, the acting director of the Centers for Disease Control and Prevention, told CNN. "So far this year, the cumulative rate of hospitalizations is the highest since we've been tracking in this way, which goes back to 2010."
Since 2010, the CDC estimates that flu-related hospitalizations ranged from 140,000 to 710,000, while flu-related deaths ranged from 12,000 to 56,000.
"This is a very difficult season," Schuchat said.
Caused by viruses, the flu is a contagious respiratory illness that can become deadly if it leads to things like viral pneumonia, sepsis — which causes organ failure — an increased risk of a heart attack, and dehydration. According to the CDC, flu vaccines are important because they cause antibodies to develop in the body that provide protection against infection.
Before Jonas Salk and Thomas Francis developed the flu vaccine in 1938, the Spanish Influenza epidemic killed at least 40 million people worldwide. That pandemic was followed by the Asian Influenza, the Hong Kong Flu, and the Avian Flu in the United States. Because of the vaccine, the death toll as a result of these viruses decreased significantly.