Another Top Trump Adviser Has Left The White House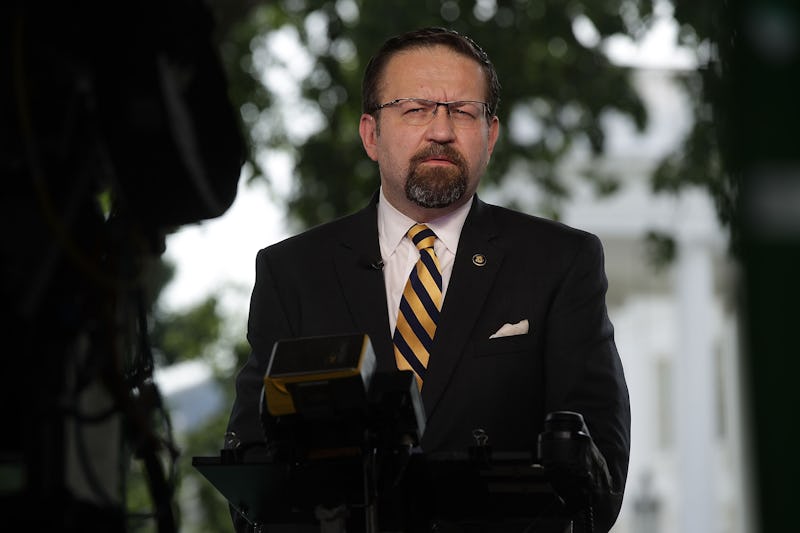 Alex Wong/Getty Images News/Getty Images
A conservative website is reporting that another one of Trump's advisers is out at the White House. Deputy Adviser Sebastian Gorka has resigned, according to a report from the Federalist, citing "sources familiar with the situation."
As The Washington Post has reported, Gorka has been criticized for his connection to far-right and anti-Semitic groups, his declaration that "the alpha males are back" when Trump was elected, as well as his view that all Muslims are the enemy of the United States. And apparently he didn't like that some of his white nationalist buddies — like Steve Bannon — had left. Gorka reportedly wrote in his resignation letter:
[G]iven recent events, it is clear to me that forces that do not support the MAGA promise are – for now – ascendant within the White House. As a result, the best and most effective way I can support you, Mr. President, is from outside the People's House.
Regrettably, outside of yourself, the individuals who most embodied and represented the policies that will 'Make America Great Again,' have been internally countered, systematically removed, or undermined in recent months.
Gorka reported directly to Bannon, who left the White House about a week ago. After Bannon left, many wondered about whether Gorka would still have a role in the administration. The Daily Beast reported at the time that new Chief of Staff John Kelly was "displeased" with Gorka and the way he conducted himself on TV interviews.
Gorka was apparently an advisor on counter-terrorism, though his qualifications were apparently murky at best. His PhD dissertation adviser told CNN he wouldn't consider Gorka a terrorism expert, stating "his level of expertise does not match the level where he stands in the White House."
According to the Daily Beast, Gorka was fired from the FBI, where he worked lecturing and training employees on counter-terrorism, after he made his Islamophobia clear through speeches and conversations as well as by reportedly teaching law enforcement officials that all Muslims are either already radicalized or will become radicalized.
While it was reported that Gorka had resigned from his position, The New York Times on Friday night categorized his departure as him being "forced out."