Trump Just Announced A New "Acting" Chief Of Staff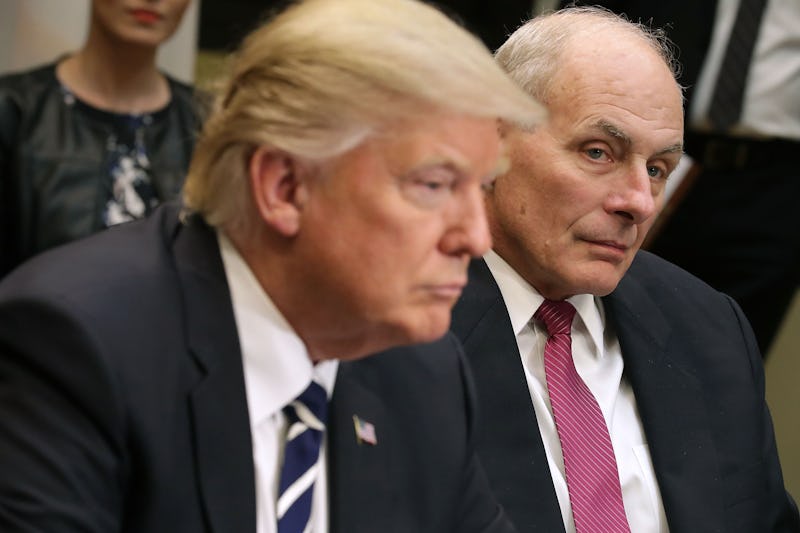 Chip Somodevilla/Getty Images News/Getty Images
On Friday evening, President Trump announced on Twitter that the Management and Budget director, Mick Mulvaney will be his "acting" chief of staff. In his tweets, he also noted that current chief of staff John Kelly will be "staying until the end of the year."
Mulvaney, a former Republican congressman from South Carolina, was selected to serve as chief of staff after former New Jersey Gov. Chris Christie, North Carolina Rep. Mark Meadows, and Nick Ayers — the chief of staff to Vice President Mike Pence — all took themselves out of the running for the position.
According to Axios, it is not yet clear who will be Trump's chief of staff on a permanent basis, as the word "acting" implies that Mulaney will only temporarily be assuming the position until someone else is appointed. However, unlike Cabinet positions that require Senate approval — where the word "acting" is often used before a candidate's title prior to confirmation — a chief of staff only requires the president's approval.
Trump tapped Mulvaney for the chief of staff position after Ayers, the president's top pick for the job, refused to agree to the two-year time commitment that Trump requested. However, CNN's Kaitlan Collins pointed out on Twitter that Trump ended up having to appoint Mulvaney on a temporary basis — which is precisely what Ayers wanted.
According to NBC News, it is unusual for a president to seek out so many different candidates for the chief of staff position, only to be turned down. However, Trump's attempt to replace Kelly comes at a time when the special counsel's Russia investigation regularly exposes new information about people who were once in the president's inner circle.
Prior to recruiting Mulvaney for the job, Trump offered the position to both Meadows and Christie. Meadows — the outgoing chairman of the House Freedom Caucus — initially expressed interest in becoming chief of staff, The Hill reported, but he and Trump ultimately concluded that Meadows should remain in Congress to "continue the great work he is doing there." Christie, meanwhile, declined the position on Friday, stating that "now is not the right time for me or my family to undertake this serious assignment."
CNN reported that Mulvaney was initially not interested in the chief of staff job. Instead, a source close to him reportedly told CNN that Mulvaney wanted to become either the Treasury secretary or the secretary of Commerce. Mulvaney is currently Trump's budget director, according to The New York Times — a hard-line conservative who oversaw the Consumer Financial Protection Bureau in a temporary capacity.
An unnamed senior administration official reportedly told The New York Times that no time limit has been imposed on Mulvaney's tenure as chief of staff, despite the "acting" title. According to NBC News, Trump and his administration see Mulvaney as steady and reliable, and the president reportedly appointed Mulvaney to the chief of staff position in the hopes that he would be able to handle the variety of political, legal, and policy hurdles that Trump is currently facing.