Trump Made The Most Awkward Joke About Antonin Scalia In Front Of His Entire Family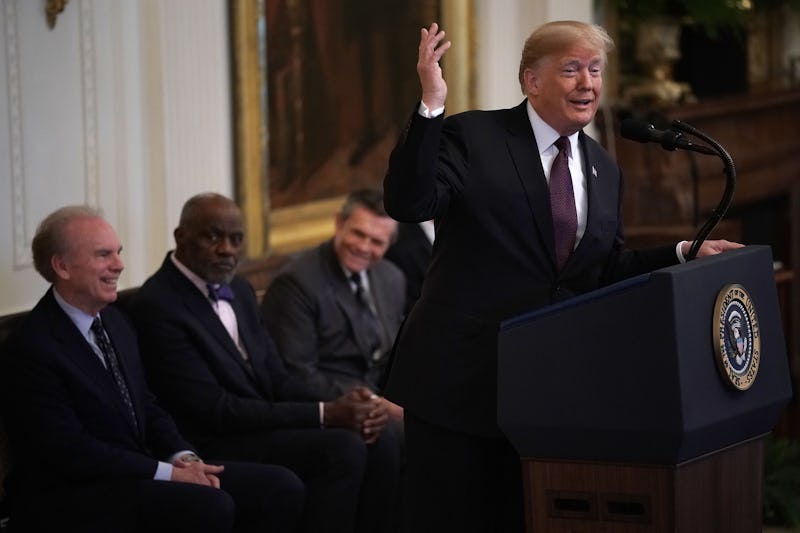 Alex Wong/Getty Images News/Getty Images
On Friday, the president awarded the nation's highest civilian honor, the Medal of Freedom, to seven people, including the late Supreme Court Justice Antonin Scalia. But the ceremony wasn't without controversy. While introducing Scalia's widow, Trump made an awkward comment about Scalia that many interpreted as a sex joke.
Trump introduced Maureen, Scalia's wife of more than 50 years, as well as the couple's nine adult children during the ceremony in the White House's East Room. Then he made a comment about how many children the couple had. "You were very busy. Wow. Wow," Trump said, eliciting laughs from the room. "I always knew I liked him."
It's unclear from videos if Maureen or her children were among the people laughing. Trump's comment doesn't appear to be mean-spirited, but given Scalia's death, many people thought it was at least very awkward. Vox reporter Aaron Rupar wrote on Twitter, "Trump commends Antonin Scalia for having a lot of sex."
And then more reactions came pouring in. Actor George Takei tweeted, "Keep it classy, Donald." People had a lot of feelings about Trump's joke — not all of them good.
During his remarks on Friday, Trump said of Scalia, according to USA Today:
Universally admired for his towering intellect, brilliant wit and fierce devotion to our founding principles, Justice Scalia has made a deep and lasting impact on the history of our nation.
In addition to Scalia, Trump awarded the medal to well-known sports stars Babe Ruth, Roger Staubach, and Alan Page; singer Elvis Presley; retiring Sen. Orrin Hatch of Utah; and Miriam Adelson, a Republican megadonor and philanthropist, according to The Chicago Tribune.
Scalia wasn't the only person Trump cracked jokes about, either. While speaking about Babe Ruth, Trump told the grandson of former Yankee's owner George Steinbrenner that his grandfather was "a real piece of work," according to transcript of the president's remarks. He continued:
Your grandfather was very difficult, but he was good. He had a good heart. (Laughter.) Sitting with George during the playoffs, as I often had to do, was like you'd go home exhausted. (Laughter.) It was exhausting.
While speaking about Ruth, Trump said he was honored to award the medal to "one of the most celebrated sports heroes in history." He said, "I mean, let's face it. Babe Ruth is Babe Ruth, right?"
The Chicago Tribune reported that the president seemed "jovial and relaxed," during his remarks, and his joke about Scalia was evidence of that. Still, Twitter was much less jovial in response to the joke.
Writer Nicole Cliff wrote, "eyes roll out of head, off table, along the floor."
Julian Routh, political reporter for the Pittsburgh Post-Gazette, tweeted, "Forget the double take. I octuple taked."
And BuzzFeed correspondent John R. Stanton wrote, "Also, am I the only one that found Trump's comments on the Antonin Scalia's reproductive prowess gross and weird?"
Of course, sex is not a bad thing — sex is a normal act. But alluding to the sex life of parents while in the company of their children because their late father is about to be posthumously given the nation's highest civilian honor is awkward at best.