Trump Appointed An Anti-Abortion Leader To HHS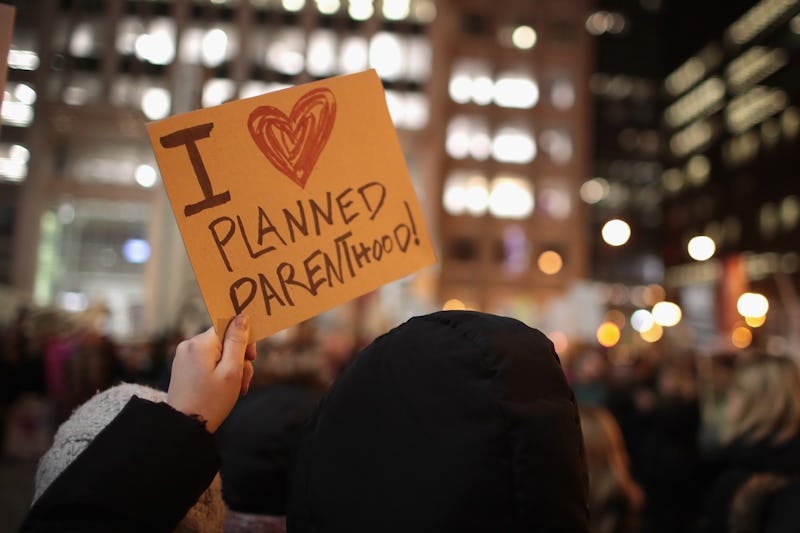 Scott Olson/Getty Images News/Getty Images
President Trump hasn't held a solid stance on abortion since the campaign. Last April, he took a stunning five different positions on abortion over three days. And since he's become president, advocates have watched closely to see if abortion, as he has asserted (however briefly) in the past, was really a top priority. On Friday, he delivered a potential blow to pro-choice activists. Trump appointed an anti-abortion leader to a top government post, and it could have ripple effects across the agency.
Charmaine Yoest is one of the most prominent anti-abortion activists in the country. She is a senior fellow at American Values, an organization that attributes abortion access to a "culture of death" in which "millions of unborn children have been killed...as a result of our country's selfishness." Previously, Yoest was president of the Americans United for Life, which seeks to provide "comprehensive legal protection for human life from conception to natural death."
Some of Yoest's greatest hits include a big role in Susan G. Komen's initial decision to stop giving funds to Planned Parenthood and, according to the New York Times, helping "push through the greatest number of abortion restrictions since the Supreme Court's Roe v. Wade decision in 1973."
And her latest role? A top communications role in the Department of Health and Human Services (HHS). Trump named Yoest to be the agency's assistant secretary of public affairs, which will empower her to shape the way that HHS communicates.
The appointment was troubling to Democrats and prominent pro-choice groups, who worry that some of the same tactics that are used by anti-abortion groups will now be filtering through HHS. "Ms. Yoest has a long record of seeking to undermine women's access to health care and safe, legal abortion by distorting the facts, and her selection shows yet again that this administration is pandering to extreme conservatives and ignoring the millions of men and women nationwide who support women's constitutionally protected health care rights and don't want to go backward," Sen. Patty Murray said in a statement.
As POLITICO points out, Yoest's appointment comes amid a wave of anti-abortion legislation at the state level. Meanwhile, Yoest's boss, Secretary Tom Price, holds similar anti-abortion stances. Really, it's a smart and scary move. The crux of Emily Bazelon's 2012 New York Times profile of Yoest is that she, unlike many anti-abortion activists, is able to maintain calm messaging. So while Price has the power to control legislative shifts and policy, Yoest will be tasked with disseminating them to the public.
"Though she has helped usher in hard-hitting changes in women's health care, Yoest is especially good at sounding reasonable rather than extreme," Bazelon wrote. And having someone that can normalize restrictions on women's health care could be a real threat to how these critical services are perceived. Let's hope she won't be as effective as she's been in the past.