Trump Asked Comey To Stop The Flynn Investigation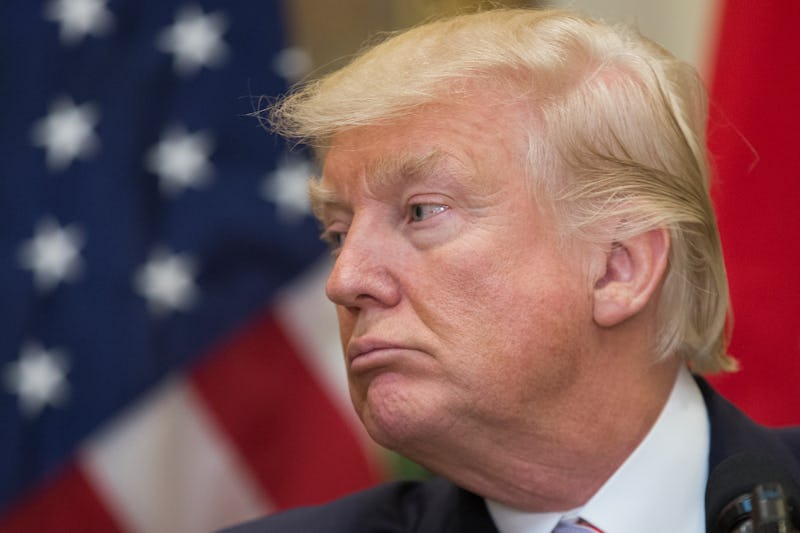 Pool/Getty Images News/Getty Images
On Tuesday, the New York Times reported that Donald Trump asked James Comey to end the FBI's investigation of Michael Flynn in February. According to a memo Comey wrote, the president made the request during an Oval Office meeting a day after Flynn was forced to resign from his position as national security adviser. Flynn was fired after it became clear he had misled the vice president about his exchanges with the Russian ambassador to the United States.
According to the memo — which The New York Times noted it had not seen a copy of, but that a Comey associate had read a portion of it to a Times reporter — Trump had said, "I hope you can see your way clear to letting this go, to letting Flynn go." Trump reiterated, "He is a good guy. I hope you can let this go." According to Comey's account in the memo, as reported by The New York Times, the president also stressed that "Flynn had done nothing wrong."
The White House has refuted the memo's account in a statement to The New York Times.
"While the president has repeatedly expressed his view that General Flynn is a decent man who served and protected our country, the president has never asked Mr. Comey or anyone else to end any investigation, including any investigation involving General Flynn," the statement said. "The president has the utmost respect for our law enforcement agencies, and all investigations. This is not a truthful or accurate portrayal of the conversation between the president and Mr. Comey."
Last week, the president fired Comey with the White House, citing recommendations from Attorney General Jeff Sessions and Deputy Attorney General Rod Rosenstein. Trump told Comey he was "not able to effectively lead the Bureau." Almost instantly, the decisions spurred outcry from Democrats who found the timing suspicious, seeing as Comey was in the middle of investigating Russia's influence on the 2016 election and its potential ties to the Trump campaign.
In fact, during an interview with NBC's Lester Holt, Trump said, "When I decided to just do it, I said to myself, I said you know, this Russia thing with Trump and Russia is a made up story. It's an excuse by the Democrats for having lost an election that they should have won."
The reported revelation about Trump asking Comey to quash the investigation of Flynn will almost certainly validate concerns about his team's connections to Russia and his general ethics. As The New York Times noted, "The existence of Mr. Trump's request is the clearest evidence that the president has tried to directly influence the Justice Department and F.B.I. investigation into links between Mr. Trump's associates and Russia."