How The Woman Who Won Teacher Of The Year Made Sure Trump Heard From Her Immigrant Students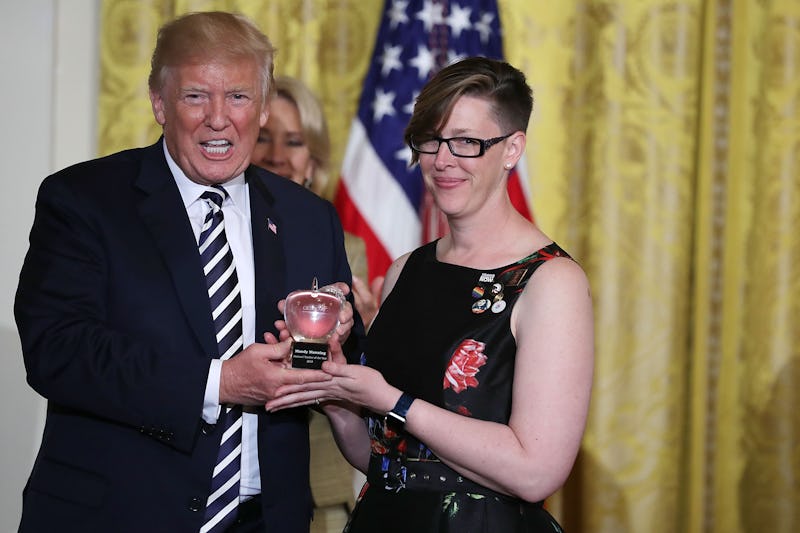 Chip Somodevilla/Getty Images News/Getty Images
While accepting the National Teacher of the Year award at the White House Wednesday, high school teacher Mandy Manning gave President Trump letters from immigrant students at her school, one of which told the president to "take care" with his words about immigrants and refugees. Manning teaches English to immigrant and refugee students at the Newcomer Center at Joel E. Ferris High School in Spokane, Washington, and delivered 45 letters written by her current and former students to the president.
During her appearance with the president, Maning wore pins expressing support for transgender rights and the Women's March, which is largely an anti-Trump protest.
Manning told Politico that a former student of hers who is Rwandan told the president "that she hopes he would model for others positive messaging around our immigrant and refugee communities," because the president serves as a role model and "his words have a lot of weight."
Trump has drawn criticism many times his comments and policies about immigrants and refugees. He referred to Mexican immigrants as "rapists" in his campaign announcement speech, said that young male Syrian refugees "are ISIS-affiliated," and claimed that immigrants who come to the United States through the Diversity Visa Program are "the worst of the worst."
Additionally, Trump is reported to have said several other disparaging things about nonwhite immigrants behind closed doors. According to The New York Times, Trump said in a cabinet meeting that Haitian immigrants "all have AIDS," and complained that Nigerian immigrants will never "go back to their huts" if they're allowed to come to America. The Washington Post reported in January that Trump, when discussing immigration from Haiti, El Salvador, and African countries, asked why the United States is "having all these people from sh*thole countries come here."
The White House denied that Trump used the words "AIDS" or "huts" in his comments about Haitians and Nigerians, and Trump tweeted that "this was not the language used" after the "sh*thole" report was published.
At the ceremony Wednesday, Trump didn't mention that Manning teaches immigrants and refugees, but did praised her overall efforts as an educator.
"Teachers like Mandy play a vital role in the well-being of our children, the strength of our communities and the success of our nation," Trump said. "The job of a teacher is not only to instruct the next generation of workers but the next generation of citizens to teach our children to care for others, to think for themselves, to love their country, to be proud of our history and to be true pillars of their families and their communities."
Manning gave a speech at the ceremony, but CNN reports that journalists weren't allowed in the room when she was giving it.
"The thing about our immigrant and refugee students is that they have this innate hopefulness," Manning told The Washington Post after the event. "They have gone through very, very difficult experiences, but they see coming to the United States as an opportunity. They feel that they can have dreams, and that they can potentially achieve those dreams. It's really quite beautiful, actually, because no matter what — no matter what they experience — they still have this hope, this resilience."
She told CNN that after she handed Trump the letters from her students, he told an aide to put them on his desk. Some of the students, Manning told The Post, described their experiences emigrating to America, while others told the president about their hopes and aspirations.
Manning originally received a degree in film and worked in television production before joining the Peace Corps, according to The Post, which she says ignited her interest in being an educator. She's now been teaching for 19 years.