Trump Just Blamed "The Rules Of Me Too" For Limiting What He Can Say On-Stage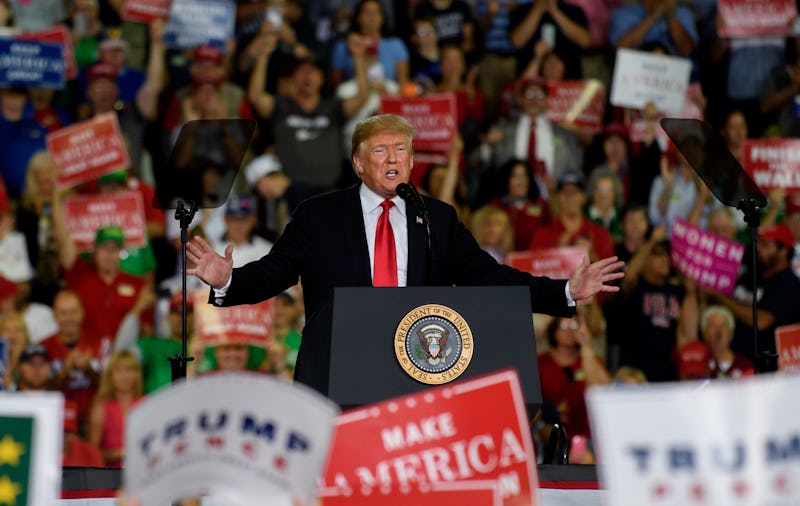 Jeff Swensen/Getty Images News/Getty Images
On Wednesday night during a rally in Pennsylvania, Donald Trump blamed the "rules of Me Too" for apparently limiting what he's allowed to say on-stage. He said, "I used an expression — you know, there's an expression, but under the rules of Me Too I'm not allowed to use that expression anymore. I can't do it." And it's not the first time he's taunted the movement.
He later added:
See, in the old days, it was a little different. ... I would do it, except for these people up there. They would say, did you hear what President Trump said? So there is an expression, but we'll change the expression: Pennsylvania was always the person who got away. That's pretty good, right, the person that got away?
This is just the latest of many insults Trump has made about the #MeToo movement. On Oct. 2, Trump said at a Mississippi campaign rally, "I think that it's a very scary time for young men in America when you can be guilty of something that you may not be guilty of. This is a very difficult time."
He later added,
Guilty until proven innocent. ... That's very dangerous for our country. That's very dangerous for our country. And I have it myself all the time. But for me, it's like a part of the job description.
Earlier in the summer, Trumped mocked #MeToo once more, in reference to a hypothetical situation in which he "tossed" an ancestry test to Sen. Elizabeth Warren. He said, "We have to do it gently because we are in the MeToo generation."
Trump's perspective of the #MeToo movement isn't just scrutinized because he's president; it's also relevant given his own personal history. During the 2016 campaign, 22 women came forward with accusations of sexual harassment and sexual assault. The accusations began to roll in after a 2005 Access Hollywood tape was released in October 2016, in which Trump said to Billy Bush, "And when you're a star, they let you do it. You can do anything... Grab them by the p***y. You can do anything."
Trump has maintained that he never sexually assaulted or harassed anyone.
Throughout the rally on Wednesday night, Trump was there to support Rep. Lou Barletta, a Republican Senate candidate. He also made a point to attack the "radical democrats," specifically the senators on the Senate Judiciary Committee during the confirmation process for Brett Kavanaugh. He said:
What the radical Democrats did to Brett Kavanaugh and his beautiful family is a national disgrace. It's a disgrace. What they did was a disgrace.
Trump also talked about the moment where he realized how powerful he is as president of the United States: when he reportedly got "Pfizer and Novartis and other drug companies" to lower the prices of their drugs. He said, "[When] I called them up and they agreed to immediately rescind, perhaps that's the first time I realized how powerful it is to be the president of the United States. That was pretty good."