Trump Wants Kim Jong-Un To Know His "Nuclear Button" Is Way Bigger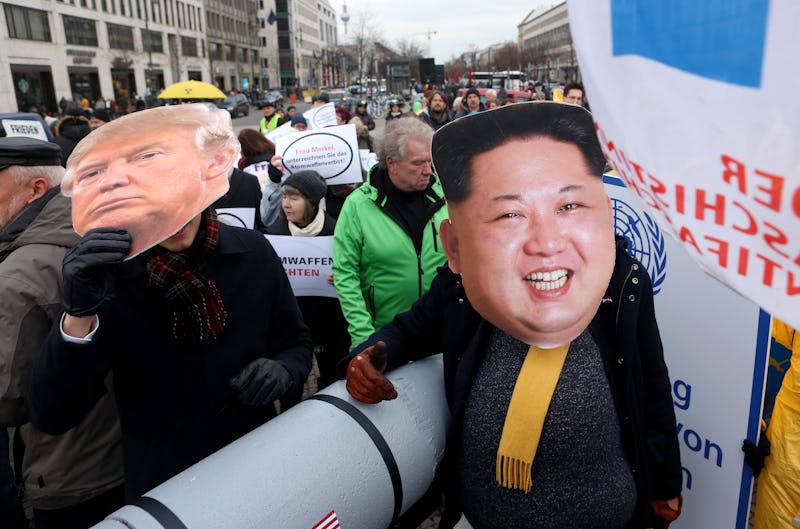 Adam Berry/Getty Images News/Getty Images
On Thursday night, just two days into 2018, President Donald Trump tweeted yet another provocation aimed at North Korea. The message came after the nation's leader bragged on Monday about having a nuclear button on his desk that could reach all of the mainland United States. "I too have a Nuclear Button," Trump told North Korea's Kim Jong-Un, "but it is a much bigger & more powerful one than his."
Kim gave a nationally televised speech on Monday as a part of Pyongyang's New Year's celebrations. Some of his language was conciliatory: He said that North Korea — officially known as the Democratic People's Republic of Korea, or DPRK — would consider sending a delegation to the Olympics this year, which will take place in South Korea.
"North Korea's participation in the Winter Games will be a good opportunity to show unity of the people, and we wish the Games will be a success," he said. "Officials from the two Koreas may urgently meet to discuss the possibility."
Although that bodes well for a potential slight warming of relations between the two Koreas in 2018, other parts of Kim's speech used the hostile language for which he made headlines throughout 2017. He once again threatened to attack the United States, this time claiming that he has a "nuclear button" on his office desk.
"The United States can never fight a war against me and our state," Kim said. "It should properly know that the whole territory of the U.S. is within the range of our nuclear strike and a nuclear button is always on the desk of my office, and this is just a reality, not a threat."
Trump typically takes the bait when Kim provokes him with statements like these, so it was unsurprising when he took to Twitter to boast about his own nuclear button, which he claims is "much bigger & more powerful" than the DPRK's and actually "works."
References to a nuclear button are generally figurative. Trump does not have a "button," although he does have a briefcase — which an aide carries with the president at all times — that contains an authentication code enabling him to order a nuclear weapons launch. It seems very unlikely that Kim has a literal button, either. But the image of a nuclear button is dramatic and well-known and acts as great fodder for the escalating language between the two leaders.
Although this "mine is bigger than yours" message may be the most mocking, schoolboy-like warning that Trump has publicly aimed at Kim, it's far from the most severe. In July, he threatened to unleash "fire and fury like the world has never seen" on North Korea.
Though slightly less dramatic, this tweet is still dangerously incendiary. As Rep. Jim Himes from Connecticut told CNN on Tuesday, "Why would you want to goad this unpredictable leader?" Sen. Ed Markey from Massachusetts reacted on Twitter to Trump's message, writing, "Imagine being a servicemember or the family of a servicemember stationed in Korea and reading this. This borders on presidential malpractice."
Curiously, Trump responded to Kim's speech two times, nearly 11 hours apart, and adopted a different tone for each. Around 6 a.m. on Tuesday, he wrote about Kim's willingness to open up a dialogue with South Korea and left room for optimism. "Rocket man now wants to talk to South Korea for first time," he said on Twitter. "Perhaps that is good news, perhaps not — we will see!" He went on to write the antagonistic tweet about the nuclear button around 5 p.m. The New York Times reports that it was "not immediately clear" why Trump's manner changed.