Trump Broke A Presidential Christmas Tradition That's Been Around For 15 Years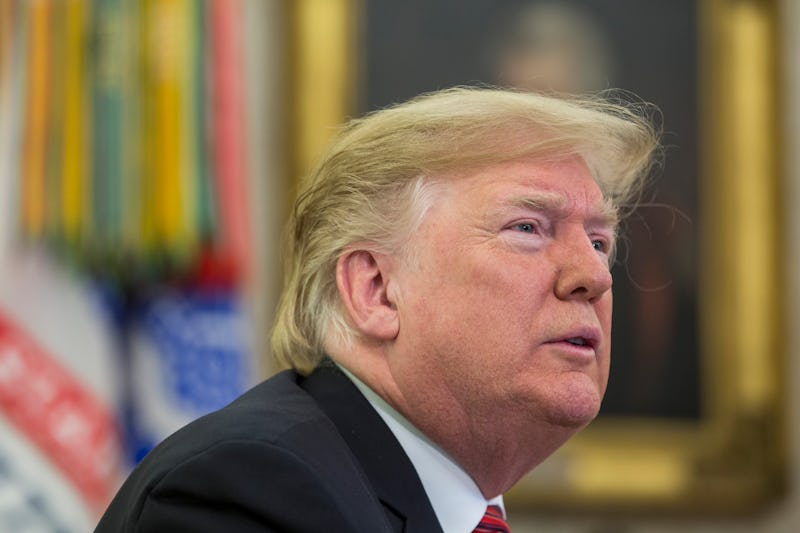 Pool/Getty Images News/Getty Images
The president opted not to visit any troops in the lead-up to Christmas this year, NBC News reports, distinguishing him from both of his predecessors. In doing so, President Donald Trump broke a presidential Christmas tradition that has been in place since 2002.
However, the day after NBC News published its report, Press Secretary Sarah Huckabee Sanders tweeted out a photo of the president and the first lady posing with soldiers in Iraq. "President Trump and the First Lady traveled to Iraq late on Christmas night to visit with our troops and Senior Military leadership to thank them for their service, their success, and their sacrifice and to wish them a Merry Christmas," she wrote.
The surprise visit was not announced to the public ahead of time. It marks the president's first-ever visit to a combat zone, according to multiple reports. American presidents have a storied history of visiting troops stationed abroad, and Trump had faced criticism for not living up to the tradition.
The president's holiday outreach to military members went on for at least two days, according to multiple reports. Trump also called troops on Christmas day, according to NBC News, reaching out to those stationed around the world. Bustle has reached out to the White House for comment.
"I'm thrilled to speak to you on behalf of our country ... in representing this beautiful Christmas Day in the United States," Trump told service members on one of his calls, according to the Huffington Post. "I know it's a great sacrifice for you to be away from your families, but I want you to know that every American family is eternally grateful to you, and we're holding you close in our hearts. Thoughts and prayers. We're all praying for you."
In reviewing their records, NBC News found that President George W. Bush visited troops every year from 2003 to 2008. After him, President Obama visited troops every Christmas season from 2009 to 2016.
Last year, Trump visited service members several days before Christmas itself. Specifically, Trump visited wounded soldiers at Walter Reed National Military Medical center on Dec. 21, before flying down to Mar-a-Lago for the holidays, The Hill reported at the time. He described those wounded soldiers as "some of the bravest people anywhere in the world."
In November, Trump faced criticism for skipping a Veterans Day visit to Arlington National Cemetery, and that criticism included the fact that he had not yet visited a combat zone. In speaking with Fox News' Chris Wallace at the time, Trump said that he hadn't yet done so because of his busy schedule, but, he told Wallace, he "will be doing it."
In the same interview, he also said that, in hindsight, he "should have" visited the cemetery on Veterans Day. "And I probably, you know, in retrospect, I should have," Trump told Wallace, according to a transcript of the interview. "And I did last year, and I will virtually every year."
Trump's surprise visit to Iraq caught many folks on Twitter by surprise. Photos of the visit quickly circulated, featuring images of a smiling Trump flanked by soldiers in uniform.