Elizabeth Warren's DNA Test On Her Native American Ancestry Did Nothing To Silence Trump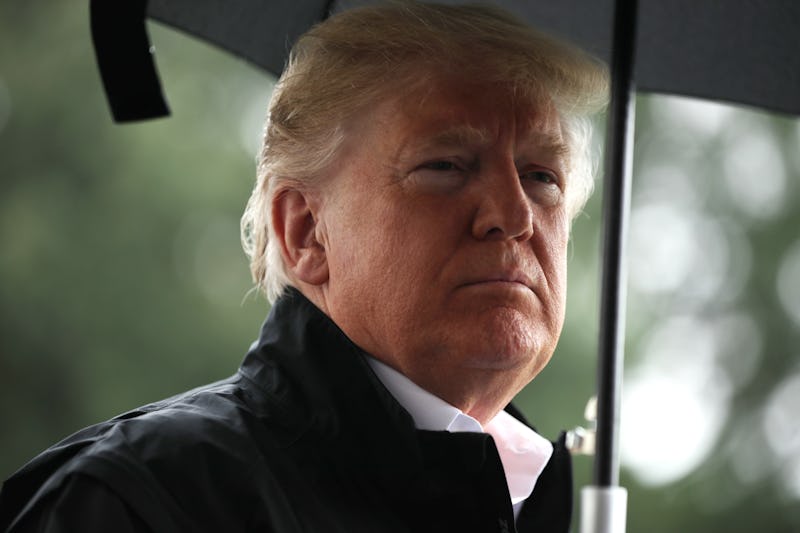 Chip Somodevilla/Getty Images News/Getty Images
On Tuesday, an ancestry-based feud between the president and a sitting Massachusetts senator continued to broil. In a tweet, President Trump called Elizabeth Warren's DNA test claiming she has Native American ancestry "bogus."
Using a racial slur, Trump disparaged Warren's attempt to prove that she is, in fact, a descendant of Native Americans. "Pocahontas (the bad version), sometimes referred to as Elizabeth Warren, is getting slammed. She took a bogus DNA test and it showed that she may be 1/1024, far less than the average American," Trump wrote. "Now Cherokee Nation denies her, 'DNA test is useless.' Even they don't want her. Phony!"
As is often the case, Trump did not end his remarks with a single post, but instead posted two followups. "Now that her claims of being of Indian heritage have turned out to be a scam and a lie, Elizabeth Warren should apologize for perpetrating this fraud against the American Public," Trump said. "Harvard called her 'a person of color' (amazing con), and would not have taken her otherwise!"
His third tweet thanked the Cherokee Nation rebuking Warren's DNA test. In a statement, they had said that DNA tests are "useless to determine tribal citizenship" and that they fail to "distinguish whether a person's ancestors were indigenous to North or South America."
"Thank you to the Cherokee Nation for revealing that Elizabeth Warren, sometimes referred to as Pocahontas, is a complete and total Fraud!" Trump tweeted.
In part, the feud is driven by President Trump's promise to pay $1 million to a charity of Warren's choosing if she took a test to prove that she actually has Native American ancestry. Trump made that promise at a rally in July, but when called to task over his promise, he contested the veracity of the results Warren shared earlier this week, suggesting that he should test her "personally." In turn, Warren fired back at the president, holding over him the swiftly approaching midterms.
"Millions of people watched you, @realDonaldTrump, as you fumbled and lied on your $1 million pledge," Warren said on Twitter on Tuesday. "It then took a day for your handlers to tee up this recycled racist name-calling. You've lost a step, and in 21 days, you're going to lose Congress."
Warren's decision to release her DNA test has been characterized by many as a precursor to her potentially running against Trump in the 2020 presidential election. Warren has not announced that she plans to run, but the ancestry results are a direct response to what has been a long-running back-and-forth between the two of them, and could potentially signify that Warren is laying the ground for future public relations sparring.
Whether or not she does make a run, it's virtually guaranteed that this is not the end of the conflict between them. Warren is one of Trump's most vocal senatorial critics, and the president does not have a reputation for taking criticism lightly — often labeling opponents with derisive nicknames, and tweeting with those nicknames whenever a specific conflict arises.