Video Of Trump Praising This Rep. For Assaulting A Journalist Will Make You Cringe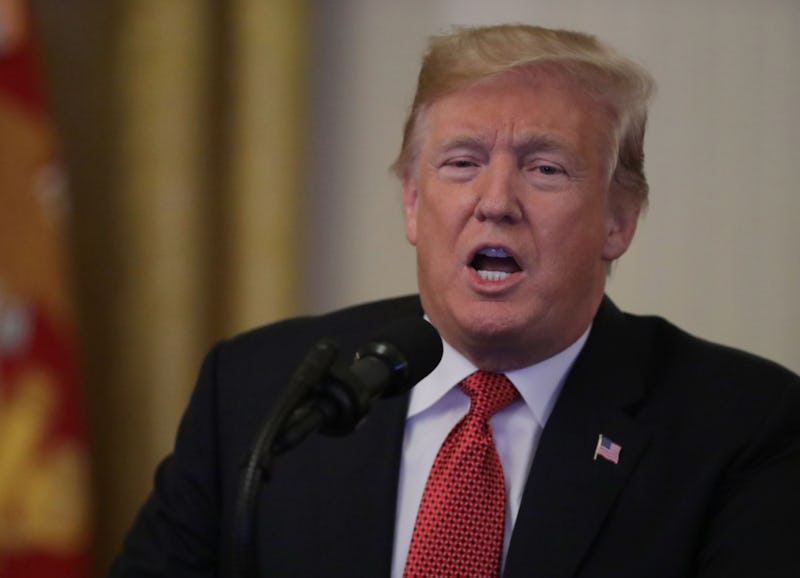 Chip Somodevilla/Getty Images News/Getty Images
During a Montana rally on Thursday night, Trump Called Greg Gianforte "my kind of guy" for assaulting a journalist in 2017. Gianforte, who is currently running for reelection as a U.S. Representative for Montana, attacked Ben Jacobs, a reporter for the Guardian, on May 24, 2017 after Jacobs asked him a question about health care. To the crowd on Thursday night, Trump explained that when he'd heard about the altercation, he'd originally been worried since it was right before voters would go to the poll. "Then I said, 'Well wait a minute, I know Montana pretty well. I think it might help him,'" Trump said. "And it did."
Trump added (to subsequent cheers), "Any guy that can do a body slam... he's my guy."
At another point in the rally, Trump said wryly, "[Gianforte] has fought — in more ways than one — for your state." In all, his flippant comments on an incident of violence against a journalist were more than a little bit ironic, giving the timing of the recent disappearance and apparent murder of Saudi journalist and U.S. resident Jamal Khashoggi.
Trump has been largely ambivalent about pursuing information or punishment from the Saudis who are accused of being involved in Khashoggi's brutal murder. At times, Trump has promised "severe punishment" if Saudi Arabia were found to be involved. At other times, he has lashed out at reporters for questioning his apparent ambivalence, saying in an Associated Press interview, "You know, here we go again with, you know, you're guilty until proven innocent. I don't like that."
The U.S. editor for the Guardian, John Mulholland, issued a statement shortly after Trump gave his speech. He said,
The president of the United States tonight applauded the assault on an American journalist who works for the Guardian. To celebrate an attack on a journalist who was simply doing his job is an attack on the First Amendment by someone who has taken an oath to defend it. In the aftermath of the murder of Jamal Khashoggi, it runs the risk of inviting other assaults on journalists both here and across the world where they often face far greater threats.
Trump's words backing Gianforte come at a time when several GOP leaders have supported his decision to remain neutral on Khashoggi's disappearance and murder. Pat Robertson, an evangelical leader, said on The 700 Club on Monday, "For those who are screaming blood for the Saudis — look, these people are key allies. ... It's not something you want to blow up willy-nilly."
Similarly, conservative talk show host Rush Limbaugh said on Tuesday, "Donald Trump is keeping his eye on the ball, keeping his eye on the geopolitical ball, the national security ball. He's not going to get sidetracked by what happened to a journalist, maybe, in the consulate there."
The president may have been flippant about the treatment of not one but two journalists this week, but that doesn't mean he's doing nothing about the current tensions with Saudi Arabia. On Thursday, it was finally announced that Treasury Secretary Mnuchin would not attend an upcoming conference in Saudi Arabia.
Secretary of State Mike Pompeo made the decision to withdraw Mnuchin from the conference along with Trump, after a meeting at the White House. Pompeo said to reporters on Thursday, "We made clear to [Saudi Arabia] that we take this matter very seriously, and they made clear to me that they too understand the serious nature of the disappearance of Mr. Khashoggi."