Trump Ranted About Maxine Waters Being "A Low I.Q. Individual"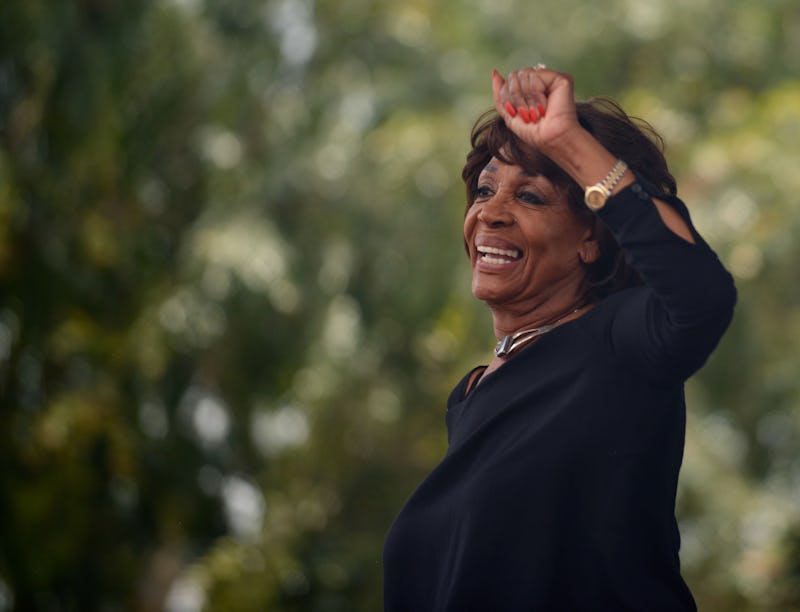 Chelsea Guglielmino/Getty Images Entertainment/Getty Images
While stumping for a Republican candidate who is running in a special congressional election in Pennsylvania, President Donald Trump took a moment to deride one of his most prominent Democratic representatives. In a speech intended to encourage voters to vote for Republican nominee Rick Saccone, Trump veered off topic to insult Rep. Maxine Waters, describing her as "a low I.Q. individual."
"You ever see her?" Trump asked the crowd at a rally in support of Saccone's campaign. "'We will impeach him! We will impeach the president!' But he hasn't done anything wrong. It doesn't matter, we will impeach him! She's a low I.Q. individual. You can't help it. She really is."
Trump made similar comments earlier in March, during his address to attendees at the annual Gridiron dinner, a yearly event for an elite group of journalists and media professionals. Those comments featured a nearly-identical stab at Rep. Waters' intelligence, including another iteration of the suggestion that she should be subjected to an I.Q. test because of her repeated calls for his impeachment.
"'He must be impeached!' That's all she knows how to say," he said. "And I say — and I get in trouble for this — 'she has to immediately take an IQ test,' and people go crazy."
Sen. Bernie Sanders jumped to Waters' defense on Twitter, scolding Trump for his remarks. "Pathetic that President Trump attacked smart and compassionate @RepMaxineWaters — both traits alien to him," he said.
Some were quick to describe Trump's comments as racist, particularly because he also made a point to attack Oprah, who some Democrats are urging to run for president in the 2020 election. ("I would love Oprah to win. I would love to beat Oprah. I know her weakness," he said. "Wouldn't we love to run against Oprah. I would love it. I would love it. That would be a painful experience for her.")
"For the second time in a week, @realDonaldTrump has criticized @MaxineWaters' intelligence," tweeted Randy Bryce, who is challenging Speaker of the House Rep. Paul Ryan's seat in Wisconsin. "It was a racist dog whistle last week, and it was a racist dog whistle last night. I stand with Maxine."
For Rep. Water's part, she responded to the comments on AM Joy, MSNBC's show hosted by Joy Ann Reid, and offered a catchphrase nickname for Trump, who notoriously doles out special epithets for his opponents.
"I'm not not intimidated by him, and so he can keep calling names. I've got plenty for him," Rep. Waters said on the show. "As matter of fact everybody knows he's a conman. he's been a conman all his life, long before he ever ran for office... 'Conman Don' is going to keep it up and again, he's coming for m, I'm coming for him.
At the Pennsylvania rally, Trump was supposed to promote a Republican congressional candidate who has been struggling in the polls. Most reports from the evening suggest that he instead largely praised himself or tore into those who disagree with him, hence the comments about Rep. Waters and Oprah.
As of Friday, Saccone's Democratic opponent, Conor Lamb, was projected to be leading the race by four points. The figures are based on a poll issued by RABA Research and published by Talking Points Memo. TPM also reported that the region previously voted in Trump's favor by 20 points, meaning that the election could potentially signify a major flip in the area's party preferences.
Instead of focusing on the Republican candidate, however, Trump devoted a lot of space to praising himself, at one point asking the crowd: "Is there anything more fun than a Trump rally?" Pennsylvania voters head to the polls on Tuesday, March 13.