Trump Is Cryptically Calling His Military Meeting The "Calm Before The Storm"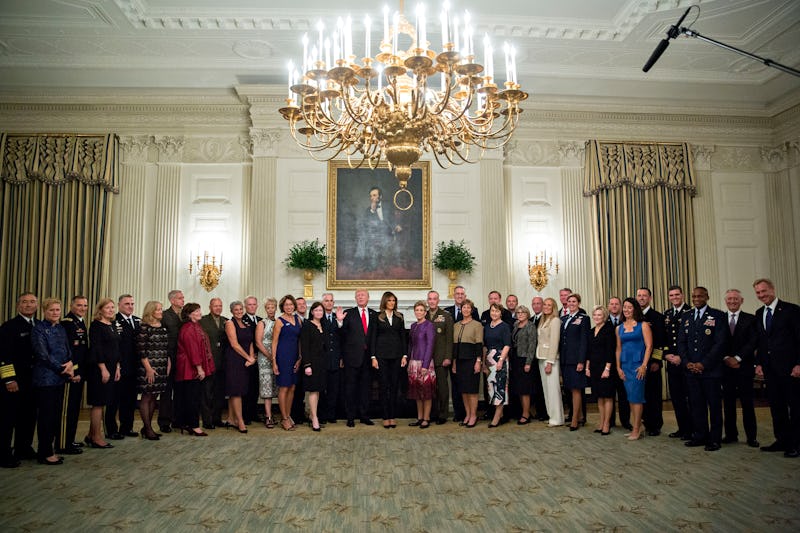 Pool/Getty Images News/Getty Images
While posing for a photo with a large group of military leaders and their respective spouses Thursday evening, President Trump posed a question to the press. "You guys know what this represents?" he asked. "Tell us," a reporter responded. "Maybe it's the calm before the storm," Trump said, according to video of the event.
"We have the world's greatest military people," Trump said. Repeatedly, reporters asked what storm he was referring to.
"You'll see," he said, refusing to specify and ultimately ignoring the subject.
This jarring assertion has left reporters puzzled.
The Hill reported earlier Thursday evening that Trump said he had been mulling over the Iran nuclear agreement and that he would soon make an announcement about it. Trump has until Oct. 15 to certify whether or not Iran is following the terms of the agreement.
He has spoken out against the deal, originally made in 2015, for years. Top officials have reportedly urged him to simply go ahead and certify the deal, formally called the Joint Comprehensive Plan of Action, in order to maintain peace, according to The Hill.
Essentially, the JCPOA eases sanctions on Iran so long as the country adheres to a series of strict rules related to its nuclear program. But whether the president was referring to Iran in his statements about "the storm" is unknown.
If Trump decertifies, Congress will have 60 days to decide whether or not to reimpose sanctions on Iran.
The JCPOA was reached on July 14, 2015 among China, France, Germany, Russia, the United Kingdom, and the United States (P5+1), as well as the European Union. The six individual countries represent the five permanent members of the United Nations Security Council plus Germany. Germany is relevant because Iran's nuclear program requires German goods and services. The JCPOA was adopted on on Oct. 18, 2015 and was implemented on Jan. 16, 2016.
In order to stave off sanctions, Iran is required to reduce its uranium enrichment by about 97 percent, slash its supply of centrifuges, and submit itself to a series of ongoing inspections by the International Atomic Energy Agency. It is allowed to continue enriching some uranium under the premise that it is doing so for peaceful purposes. Critics have argued that the fact that any enrichment is allowed to continue is risky because it leaves the door open for future weapon development. Iran had to dismantle significant portions of its nuclear program even before the deal was implemented, according to a White House press release at the time.
At the same time that President Trump is dangling the Iran deal's future before the media, tensions between the United States and North Korea have also skyrocketed.
Referring to Thursday night's remarks, Foreign Policy columnist Jeffrey Lewis tweeted, "This is the kind of idle threat that, made at the wrong time, could trigger an unexpected escalation on the Korean Peninsula. Please stop."
President Trump and North Korean Leader Kim Jong Un have been in an ongoing spat in recent months. Trump has threatened to "totally destroy" the reclusive state, and in return, North Korean leaders have described Trump as "totally deranged." Trump has continued to mock Kim, referring to him as "Rocket Man" in multiple tweets.
Last week, Secretary of State Rex W. Tillerson formally acknowledged for the first time that the United States is in direct communication with North Korea. However, Tillerson reportedly has not shared what these communications could mean, simply that they can and do take place. Trump and Kim, meanwhile, have been engaging in zero-sum threats, making the possibility of concessions on either side dubious.
Again, whether Trump was referring to Iran, North Korea, or something else in his "calm before the storm" remarks is unknown. He does, however, have to make an announcement about Iran soon, and remarks about North Korea have been ongoing.