The Trump Campaign Denied Making 2020 Flags In China, But There's Photo Evidence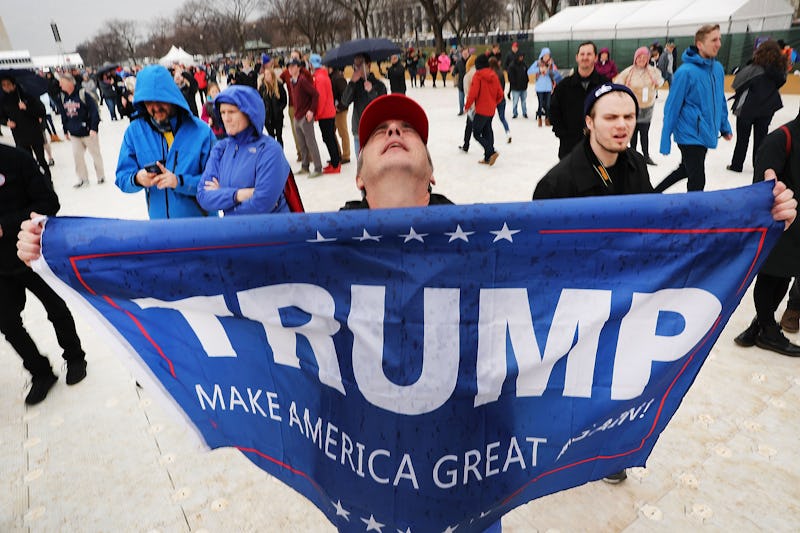 Spencer Platt/Getty Images News/Getty Images
In a statement Saturday, President Donald Trump's campaign denied making 2020 flags in China — but the internet has receipts. Reuters images of Trump reelection campaign flags being produced in what appears to be a factory in China went viral Saturday, sparking the rumors and pretty damning evidence, to which the campaign has said, "Nah."
Michael Glassner, chief operating officer for the Trump campaign, said in a statement to CNN:
We have made it clear all along that all of our merchandise is 100% made in the USA. Any vendor who claims to have a relationship with us otherwise is lying or violating our protected trademark rights. This applies to all of the recent fake news about Made in China products for the 2020 campaign.
Reuters reported earlier this week that Trump's 2020 campaign flags read "Keep America Great!" while also featuring the same red, white, and blue color scheme that they used during the 2016 election. Yao Yuanyuan, the manager of Jiahao Flag Co Ltd. in Anhui province, told Reuters that the factory has made about 90,000 flags since March.
Still, despite the photo evidence, the campaign denied any use of Chinese factories to make 2020 flags. But Twitter wasn't fooled, nor were users amused.
Some people noted that the flags, if they were commissioned by Trump's official campaign, wouldn't be the first Trump product to be produced in China. The Washington Post reported previously that shirts from the Donald J. Trump Collection were made in China, Bangladesh, Honduras and Vietnam, for example.
In an ironic twist, Reuters reported that the flags could face tariffs that Trump himself supported as part of his escalating trade war with China. Yao said 90,000 is an unusually high amount of flags for the season, and believes the campaign's production requests are "closely related" to the impending tariff increases. "They are preparing in advance, they are taking advantage of the fact that the tariffs haven't gone up yet, with lower prices now."
Reuters noted that Yao doesn't know if the flags' buyers are affiliated with the U.S. Republican Party or Trump's campaign, though she did say they are located in both China and other countries. And, Yao said the factory made flags for Trump's campaign during the 2016 election.
NPR also did an interview in early July with factory owner Li Jiang, whose factory is located in Zhejiang province. Li, who made campaign flags for both Hillary Clinton and Trump in 2016, told NPR, "We also make flags for Trump for 2020. It seems like he has another campaign going on in 2020." Li also said that every flag says "Made in China" on the label.
A few weeks ago, the Trump administration placed a 25 percent tariff on a list of Chinese goods worth $34 billion, and Beijing responded with its own tariff on a number of U.S. goods worth the same amount, CNN reported. Then, the Trump administration announced another round of 10 percent tariffs on $200 billion of Chinese goods, CNBC reported.
Though flags have not been hit with a tariff yet, they could be, depending on how Trump's trade war with China goes. And if that happens, the tariffs could affect whether the factory Yao manages can still produce flags for the campaign. "Everyone can have a patriotic heart, but this won't improve his economy," she told Reuters.