Trump Claimed Women Crossing The Border Are "Raped At Levels That Nobody's Ever Seen"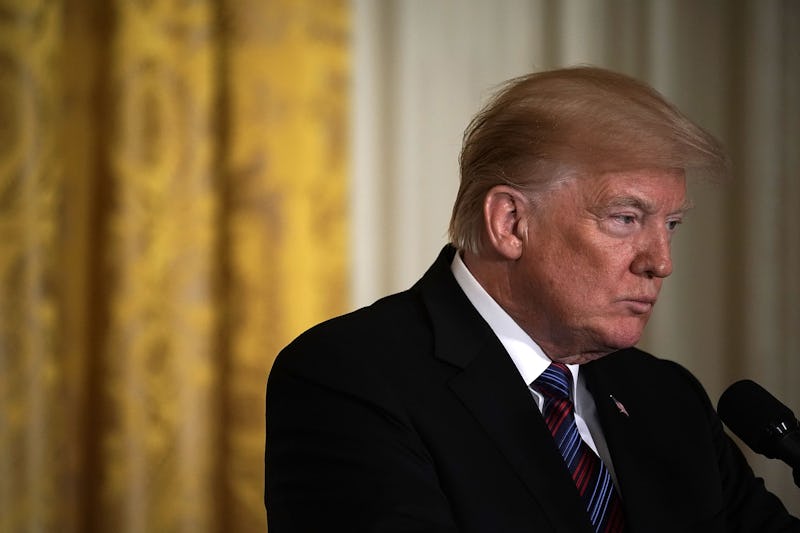 Alex Wong/Getty Images News/Getty Images
On Thursday, during an event touting the Republican tax bill passed late last year, President Donald Trump returned to the earliest and one of the most inflammatory talking points of his political career. Virtually reprising his remarks from his campaign announcement speech calling Mexican immigrants "rapists," Trump claimed women crossing the border are raped "at levels that nobody has ever seen before."
Trump explicitly tied his comments to his notorious campaign announcement, starting by saying that when he first entered the presidential race at Trump Tower in 2015, he was criticized and condemned for claiming that Mexico was "not sending their best," but rather that criminals and "rapists" from there were coming into the United States.
"Remember my opening remarks at Trump Tower, when I opened, everybody said, oh, he was so tough, and yes, I used the word 'rape,'" Trump said. "And yesterday it came out where, this journey coming up, women are raped at levels that nobody's ever seen before. They don't want to mention that."
It's unclear what Trump was precisely referring to, and he provided no direct or specifically cited evidence to back up his claim. It's been a matter of public reporting for years that women attempting to migrate into the United States are at increased risk of rape and sexual assault, and immigration advocates regard it as a serious problem.
In reality, however, organizations like Amnesty International have found that female migrants are at increased risk of sexual assault not just because of male migrants ― the seeming implication of Trump's remark ― but also the very sorts of crime gangs, human traffickers, and corrupt and abusive officials they're emigrating to the United States to try to escape. This is nuance and context that Trump totally left out.
Trump's attacks on undocumented immigrants have in the past predominantly framed Americans as potential victims of violence, despite the fact that immigrants commit fewer crimes on average than U.S. citizens.
It's possible he was referencing a Pueblo Sin Fronteras caravan attempting to bring migrants into the United States from Central America. Pueblo Sin Fronteras has been organizing these sorts of caravans for years, in an effort to let migrants fleeing violence, poverty, and turmoil in their native countries seek asylum in other countries.
As The Hill noted, that caravan was halted in Mexico City this week amid vociferous public criticism from Trump. Pueblo Sin Fronteras Director Irineo Mujica has denied that Trump is the reason the caravan has been stymied, as Reuters detailed on Wednesday, saying instead that the organization doesn't want child migrants to have to ride on an unsafe freight train.
"It's not because of Donald Trump," Mujica reportedly said.
Trump has long been criticized by progressives and pro-immigration activists and advocates for his statements about immigrants and immigration. In addition to his "rapists" remark that kicked off his political career, he's repeatedly called for the construction of a border wall along the southern U.S. border, an end to so-called "sanctuary cities," and for undocumented immigrants to be rounded up and deported. Last year, he also reportedly referred to a number of Latin American nations (as well as African ones) as "sh*thole countries."
Since Trump took office, arrests and detentions by Immigration and Customs Enforcement have sharply increased, by a rate of approximately 30 percent. This is not necessarily a partisan issue, however ― the eight-year tenure of former president Barack Obama saw more deportations than any under previous administration, outpacing his Republican predecessor, George W. Bush. Under Trump, total deportations are reportedly occurring at a slower rate than they did under Obama, despite the reported increase in arrests and detentions.