Trump Felt The Need To Vent That He Didn't Get A Thank You For John McCain's Funeral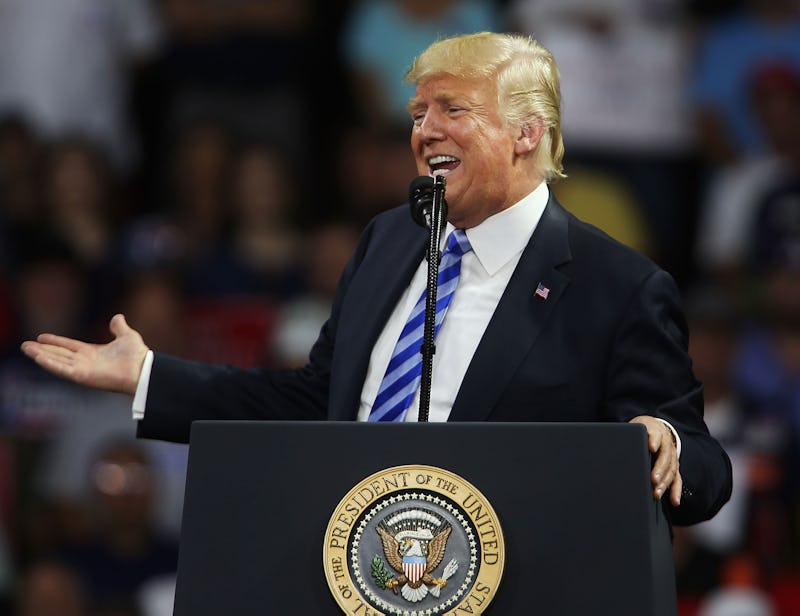 Spencer Platt/Getty Images News/Getty Images
At an event in Ohio on Wednesday, President Trump appeared to criticize John McCain for not thanking him for his funeral. Trump said that he gave the late senator "the kind of funeral he wanted," but "didn't get thank you" afterwards.
"I endorsed [McCain] at his request, and I gave him the kind of funeral that he wanted, which as president, I had to approve," Trump said. "I don't care about this — I didn't get 'thank you' — that's OK. I sent him on his way. But I wasn't a fan of John McCain."
The rivalry between McCain and Trump stretches back to 2015, when Trump mocked McCain's military service and claimed that "he's not a war hero" because he got captured while flying over Vietnam. McCain nevertheless endorsed Trump for president (over Hillary Clinton), and he later on cast the tie-breaking vote to save ObamaCare, an enormously consequential vote that infuriated Trump at the time. And if the president's recent comments are any indicator, that vote still infuriates him today.
"I'm very unhappy that he didn't repeal and replace Obamacare," Trump told reporters Tuesday, before the Ohio event. "I think that's disgraceful." He clarified that he "was never a fan of John McCain and I never will be."
Wednesday was at least the third time in the last week that Trump disparaged McCain, who died in August from brain cancer. On Sunday, he mocked McCain for graduating "last in his class" from Annapolis and accused him of "working together" with Democrats to defeat Trump in the 2016 election.
Two of Trump's fellow Republicans have disowned his posthumous bashing of McCain. Republican Sen. Johnny Isakson called Trump's comments "deplorable" and said that "the country deserves better."
"America deserves better, the people deserve better, and nobody — regardless of their position — is above common decency and respect for people that risk their life for your life," Isakson said in an interview with the Bulwark. "When the president is saying that that he doesn't respect John McCain, and he's never going to respect John McCain, and all these kids are out there listening to the president of the United States talk that way about the most decorated senator in history, who is dead, it just sets the worst tone possible."
Likewise, Sen. Mitt Romney — who, like McCain, was once the Republican nominee for president against Barack Obama — said in a tweet that he "can't understand" why Trump would "disparage" McCain.
But Isakson and Romney are in the minority. Although several Republicans praised McCain immediately after Trump's comments, few of them actually condemned the president for insulting their former colleague. Sen. Lindsay Graham — who was close, personal friends with McCain for decades before his death — wrote a kind tribute to his old friend on Twitter shortly after Trump's initial comments. But, strikingly, Graham declined to condemn or even mention Trump. The same goes for Senate Majority Leader Mitch McConnell and Sen. Martha McSally, both of whom applauded McCain but didn't acknowledge or condemn Trump's criticisms.
McCain was laid to rest at a September ceremony in Washington D.C., with several former presidents in attendance. Trump wasn't invited to McCain's funeral; McCain's widow Cindy McCain told ABC News that the family wanted to hold the ceremony "with dignity."