Trump Condemns Anti-Semitism In The Pittsburgh Synagogue Shooting After Facing Backlash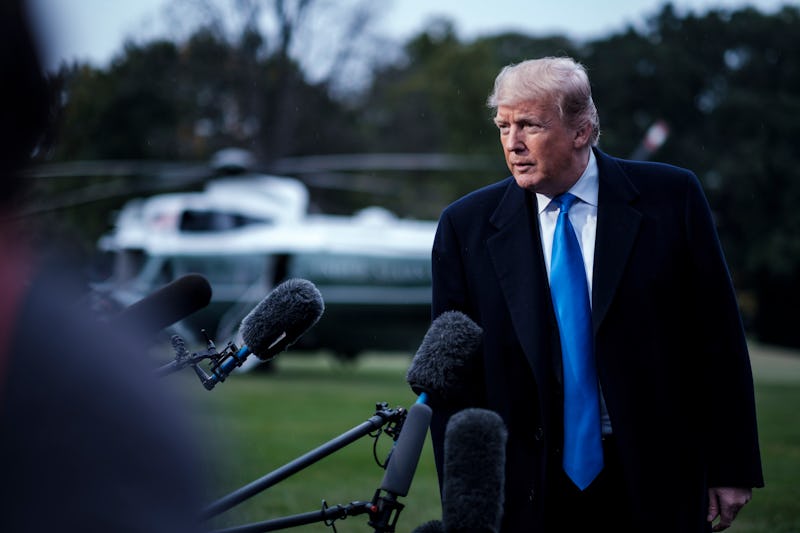 Pete Marovich/Getty Images News/Getty Images
After a shooting at a Pittsburgh synagogue on Saturday that left at multiple people dead, President Donald Trump initially denounced rising "hate" and violence but did not address the shooter's reported anti-Semitic comments. Following intense criticism, however, Trump ultimately denounced anti-Semitism, and argued that it "must be confronted anywhere and everywhere it appears."
Trump's initial response to the shooting, which took place during a Saturday morning service at the Tree of Life Synagogue in Pittsburgh, suggested that an armed guard could have prevented the shooting from taking place. He also argued that the "wacko" shooter should "pay the ultimate price" — the death penalty.
Twitter users quickly slammed Trump for suggesting that the shooting victims should have better protected themselves, and some argued that he was anti-Semitic because he described hate in a broad sense. So when Trump made an appearance in Indianapolis to speak with the Future Farmers of America, he amended his original response with a firm denunciation of anti-Semitism.
"This wicked act of mass murder is pure evil, hard to believe, and frankly, something that is unimaginable," Trump said on Saturday. "This was an anti-Semitic act. You wouldn't think this would be possible in this day and age. ... Anti-Semitism and the widespread persecution of Jews represents one of the ugliest and darkest features of human history."
As the Associated Press pointed out, Trump's condemnation of anti-Semitism was in stark contrast to his comments following last year's gathering of white nationalists in Charlottesville, Virginia. At that time, Trump suggested that "both sides" were to blame for the violence in Charlottesville. In the case of the Pittsburgh synagogue, however, Trump made an effort to distance himself from the shooter, saying that "he was no supporter of mine."
According to the BBC, federal investigators are investigating the synagogue shooting as a hate crime. Although Trump did ultimately denounce the anti-Semitic nature of the synagogue shooting, Twitter users like Color of Change Executive Director Rashad Robinson argued that his comments about placing an armed guard inside the synagogue were not productive:
The shooting also prompted many Twitter users to reflect on the increasing rate of anti-Semitic hate crimes in the U.S. over the past several years. As Vox pointed out, Trump may have condemned the synagogue shooting as anti-Semitism, but he frequently accuses billionaire philanthropist George Soros — who is Jewish — of funding protests against his administration. Moreover, rates of anti-Semitic hate crimes appear to have increased since Trump assumed the presidency, per Business Insider.
As a result, multiple Twitter users argued that Trump's comments about anti-Semitism on Saturday were hypocritical, and that he and his administration have incited hate.
When reporters asked Trump whether tightening gun laws might prevent future mass shootings, he argued that "this has little to do with it."
"If they had protection inside the results would have been far better," Trump insisted.
According to The New York Times, at least 11 people were killed on Saturday, in what was at least the third mass shooting in a house of worship in three years.