Trump Condemned The Bigotry & Violence "On Many Sides" In The Charlottesville Protest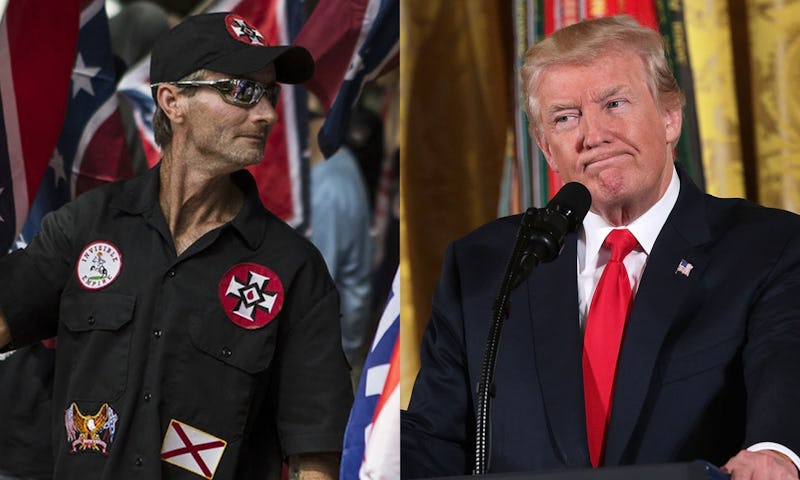 Chet Strange, Alex Wong/Getty Images News/Getty Images
From New Jersey on Saturday afternoon, President Trump condemned the the violent Charlottesville protests in his first public remarks about the violence in the "Unite The Right" rally in Virginia. "We're closely following the terrible events unfolding in Charlottesville, Virginia," the president said. "We condemn in the strongest possible terms this egregious display of hatred, bigotry and violence, on many sides."
Trump delivered his brief remarks at the start of a bill signing ceremony on Saturday, though he did not answer when a reporter asked what he had to say to pro-Trump white nationalists who commit acts of violence.
Trump said that the hatred and bigotry had been going on "for a long time in our country," and suggested it was not because of him nor his predecessor, President Obama. He did not mention in his remarks the Nazi flags and salutes present at the white nationalist "Unite The Right" protest.
Shortly before his speech, Trump took to Twitter to issue a similarly vague statement on Charlottesville. "We ALL must be united & condemn all that hate stands for. There is no place for this kind of violence in America. Lets come together as one!" he tweeted, later adding: "Am in Bedminster for meetings & press conference on V.A. & all that we have done, and are doing, to make it better-but Charlottesville sad!"
The wording of his remarks on Charlottesville and the absence of a forceful denunciation (or any denunciation at all) of the Nazi regalia and white supremacists was fiercely criticized on social media. Many called him out for alluding that white nationalists and those who oppose them were equally deserving of condemnation.
It was, however, embraced by the far-right. Richard Spencer — whom The New York Times labeled as the "leading ideologue of the alt-right movement" — suggested that Trump may have been criticizing the counter-protestors in Charlottesville or the police that "cracked down on peacefully and lawfully assembled demonstrators" on Twitter.
Trump's lackluster remarks were in stark contrast to the many fierce condemnations of the violence at the Charlottesville protests from Republican and Democratic politicians alike — including Hillary Clinton. In her comments on the incident, she slammed "the incitement of hatred that got us here" and the "white supremacists in our streets"
Clinton also took a veiled swipe at the president. "Every minute we allow this to persist through tacit encouragement or inaction is a disgrace, & corrosive to our values," she tweeted. "Now is the time for leaders to be strong in their words & deliberate in their actions."