Trump Contradicts Pence, His Administration, & Himself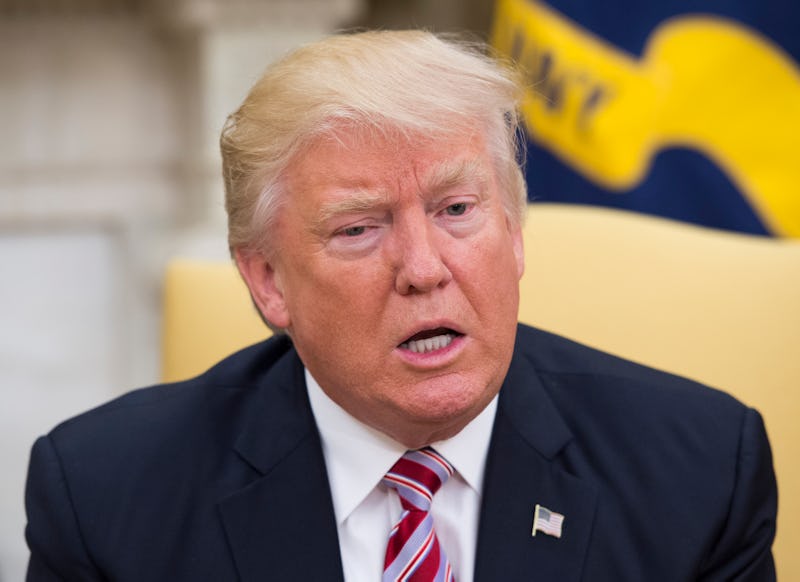 Pool/Getty Images News/Getty Images
Contrary to White House claims that the president was acting on advice from the Justice Department, President Donald Trump said he'd already planned on firing FBI Director James Comey before it was recommended he be dismissed in an exclusive interview with NBC News on Thursday. Speaking with NBC's Lester Holt, Trump said he had decided to fire Comey regardless of what Justice Department officials recommended.
"He's a showboat, he's grandstander, the FBI has been in turmoil," Trump told NBC News. "You know that, I know that. Everybody knows that. You take a look at the FBI a year ago, it was in virtual turmoil, less than a year ago. It hasn't recovered from that."
Although the White House, Vice President Mike Pence, and even a letter signed by President Trump himself all explicitly said the president was acting on the recommendations of Attorney General Jeff Sessions and Deputy Attorney General Rod J. Rosenstein when he fired Comey on May 9, Trump told Holt on Thursday that he had planned to dismiss the FBI director whether or not the Justice Department recommended it.
"I was going to fire Comey – my decision," the president said Thursday. "I was going to fire Comey. ... I was going to fire regardless of recommendation."
That statement, however, contradicts one White House Press Secretary Sean Spicer gave May 9 when announcing Comey's dismissal. "President Trump acted based on the clear recommendations of both Deputy Attorney General Rob Rosenstein and Attorney General Jeff Sessions," Spicer said in a statement. Vice President Pence also made similar statements attributing Trump's decision to fire Comey to recommendations from Department of Justice officials in interviews earlier this week. Moreover, a letter signed by Trump informing Comey of his termination read, "I have accepted their recommendation and you are hereby terminated and removed from office, effective immediately."
Perhaps Trump's change of tune has something to do with reports alleging Rosenstein had become "distressed" at the White House's attempts to lay Comey's dismissal on him and his letter. Although Rosenstein's letter includes several harsh criticisms of how Comey handled the FBI's investigation into former Secretary of State Hillary Clinton's use of a private email server, it does not explicitly call for Comey to be removed from office. At worst Rosenstein wrote, "The FBI is unlikely to regain public and congressional trust until it has a Director who understands the gravity of the mistakes and pledges never to repeat them."
The White House has also begun to walk back some of its earlier comments. In a press briefing Thursday, Deputy Press Secretary Sarah Huckabee Sanders characterized Rosenstein's letter as the "final straw that pushed" Trump to dismiss Comey.
Trump's decision to fire Comey while the FBI director was overseeing a criminal investigation into alleged links between Russia and the Trump campaign has also made the president the target of heated bipartisan criticism.