Trump Snapped At A Black Female Reporter For The Third Time This Week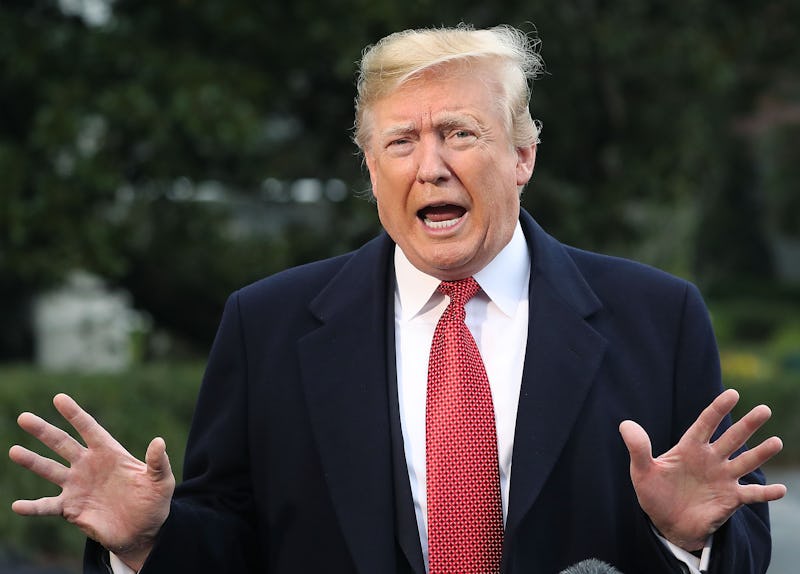 Mark Wilson/Getty Images News/Getty Images
For the second time this week, President Donald Trump attacked a CNN reporter and refused to answer their questions. After berating Jim Acosta at a press conference on Wednesday, Trump slammed CNN's Abby Phillip for asking "stupid questions" while speaking to reporters on Friday.
Bustle has reached out to the White House for comment.
As one of several reporters who gathered on the White House lawn Friday, Phillip asked Trump whether he hoped that Matthew Whitaker — the acting attorney general appointed by the president earlier this week — would "rein in" Robert Mueller's Russia investigation. In response, Trump told Phillip that her question was "stupid."
"What a stupid question that is," Trump said. "What a stupid question. But I watch you a lot. You ask a lot of stupid questions."
On Wednesday night, the White House revoked Acosta's press pass after Acosta asked Trump questions about the migrant caravan approaching the United States during a press conference. Trump told Acosta to "let [him] run the country," and insisted that he "put down the mic." When asked about his exchange with Acosta on Friday, Trump chose to further escalate his feud with CNN by describing another reporter, April Ryan, as a "loser" and "very nasty" — after already having told her to "sit down" at Wednesday's press conference when she tried to ask a question about voter suppression.
As Mashable pointed out, Trump's attacks on Acosta, Phillip, and Ryan follow a pattern of similar attacks on reporters of color — and especially black female reporters. Also this week, Trump went after PBS News Hour's Yamiche Alcindor, calling her question about white nationalists "racist." In the past, Trump attacked journalist Jemele Hill after she referred to him as a white supremacist, and has criticized Ryan on a number of occasions.
In response to Trump's remarks to Phillip and other CNN reporters, CNN issued a statement noting that Phillip had "asked the most pertinent question of the day." Trump's "personal insults are nothing new," CNN's communications team tweeted, "and never surprising."
Acosta also took to Twitter to defend his colleagues, lauding Phillip for "asking tough questions" and describing Ryan as "an incredible journalist."
Trump suggested on Friday that he may revoke White House press credentials from other reporters who don't show him "respect," per The Hill. He added that he hasn't yet decided how long Acosta will be barred from accessing the White House, but insisted that footage of Acosta from Wednesday's press conference was not doctored, despite experts arguing otherwise.
In response to Trump's claim that she asked "stupid questions," Phillip subsequently appeared on CNN to explain why she asked the president about Whitaker and Mueller.
"I tried to ask him multiple questions during the gaggle," Phillip said. "He ignored most of them. I did ask him one of what I think is the most pressing questions that a lot of people have about this Matt Whitaker appointment, which is 'what's the intention here, does the president want his new acting attorney general to rein in Robert Mueller?'"
Phillip also argued that her question was a fair one, particularly in light of what Whitaker has said about the Russia probe in the past.