Trump Defends Firing James Comey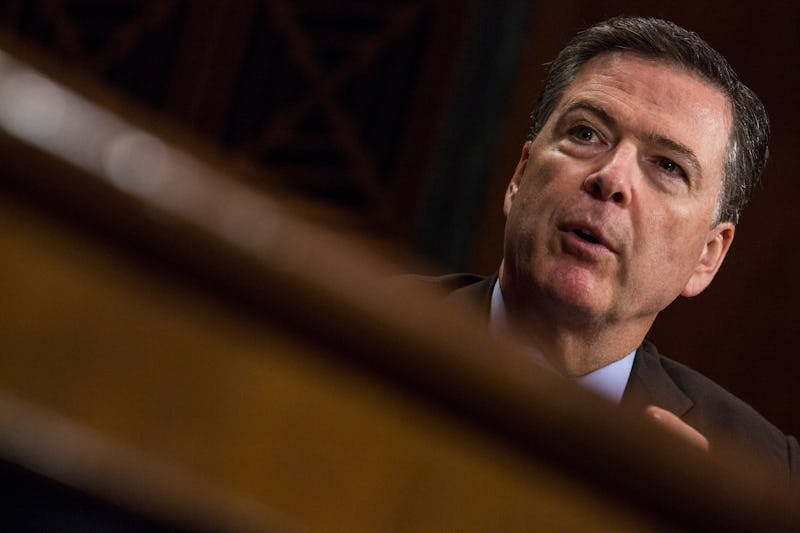 Zach Gibson/Getty Images News/Getty Images
On Wednesday, according to the Associated Press, Donald Trump defended his decision to fire James Comey by claiming that "he was not doing a good job" in brief remarks he delivered to reporters in the Oval Office. The Hill reported that the remarks were made during an Oval Office meeting with former Secretary of State Henry Kissinger. "Very simply, he was not doing a good job," Trump said of Comey.
Trump also met with Russian Foreign Minister Sergey Lavrov and Russian Ambassador Sergey Kysliak earlier on Wednesday, but he told reporters that Comey's firing did not have an impact on their meeting.
In addition to his Oval Office remarks, Trump took to Twitter to defend his decision to fire the FBI director, arguing that Comey had "lost the confidence of almost everyone in Washington," and that everybody would ultimately thank him for firing the FBI director.
Trump didn't stop there. He criticized Democrats such as Chuck Schumer for their indignation, referencing their prior allegations that Comey played a role in Hillary Clinton's loss of the presidential election. "The Democrats have said some of the worst things about James Comey, including the fact that he should be fired, but now they play so sad!" Trump tweeted.
Furthermore, Trump also insisted that Comey's replacement would do a better job and bring back the FBI's "spirit and prestige."
During his meeting with Kissinger, Trump did not answer a reporter's question about whether or not Comey's replacement would take over the investigation into the Trump campaign's ties with Russia, the Hill reported. This is particularly significant given that just days before he was fired, Comey had asked the Justice Department for more money and personnel for the FBI's investigation into Russia's alleged involvement in the presidential election.
Now, the state of the investigation going forward is unclear as White House officials rush to justify Trump's decision. In his official recommendation of Comey's termination, Deputy Attorney General Rod Rosenstein said that Comey should be fired due to his handling of the Clinton email case. As a result, government officials are now arguing that it was the email probe and not the investigation into Russian ties that led to Comey's departure.
In his own letter to Comey, Trump did not just resort to telling the FBI director that he was not doing a good job. He told Comey that he was no longer effectively able to lead the FBI, writing: "It is essential that we find new leadership for the FBI that restores public trust and confidence in its vital law enforcement mission." However, unless Comey's replacement resumes his predecessor's investigation into the Trump campaign, it is unlikely that we will see any restoration of public trust and confidence.