President Trump Defends Ivanka's Role At G-20 Summit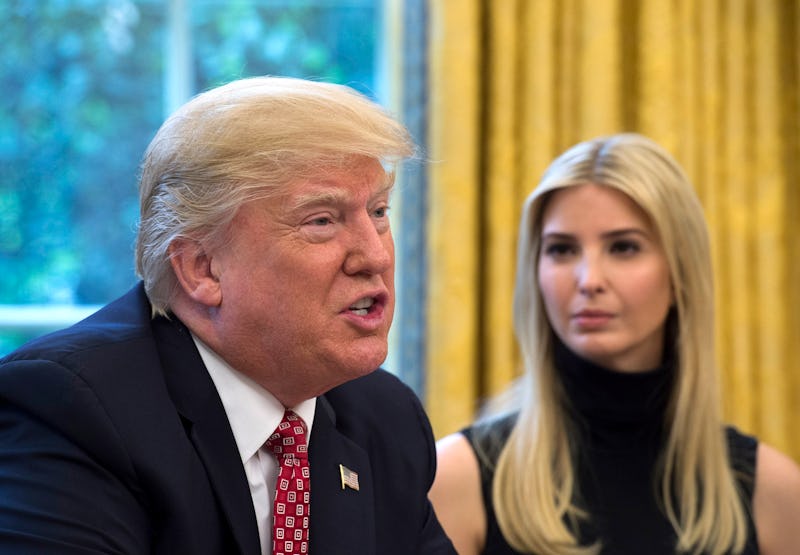 Pool/Getty Images News/Getty Images
After his daughter became the subject of controversy on Saturday, President Trump defended Ivanka's place at a G-20 meeting with world leaders. The first daughter filled her father's place at an assembly on "Partnership With Africa, Migration and Health" after he stepped out for a brief period. Ivanka was subsequently criticized as being unqualified to participate. Critics also viewed her involvement as hypocritical following a recent Fox & Friends interview in which she insisted she tries to "stay out of politics."
The president turned to Twitter on Monday to address the backlash. "When I left Conference Room for short meetings with Japan and other countries, I asked Ivanka to hold seat," he wrote. "Very standard. Angela M agrees!" German Chancellor Angela Merkel did in fact defend Ivanka Trump's presence at the table when asked for her opinion on Saturday. "Ivanka Trump belonged to the American delegation, so that is in line with what other delegations do," she said. "And it is known that she works at the White House and carries responsibility for certain initiatives.''
In a follow-up tweet, President Trump suggested that his daughter is held to a different standard than Chelsea Clinton: "If Chelsea Clinton were asked to hold the seat for her mother, as her mother gave our country away, the Fake News would say CHELSEA FOR PRES!"
Though the first daughter has yet to respond to the criticism directly, a White House official spoke on her behalf to explain the incident: "Ivanka was sitting in the back and then briefly joined the main table when the president had to step out and the president of the World Bank started talking as the topic involved areas such as African development, areas that will benefit from the facility just announced by the World Bank."
Less than an hour after the president's tweets, Chelsea Clinton took to Twitter to post a response. "Good morning Mr. President," she wrote. "It would never have occurred to my mother or my father to ask me. Were you giving our country away? Hoping not." At the time of this writing, President Trump has not replied to Clinton's rebuttal. In the past, Trump has expressed fondness for Clinton — "I really like Chelsea Clinton — an amazing young woman," he tweeted once. "She got the best of both parents." After the first presidential debate against her mother last September, Trump claimed to have held back on bringing up Bill Clinton's "transgressions" out of respect for Chelsea, who was in the audience.
The tweets he posted on Monday are not the first examples of instances of the president defending his daughter against what he perceives to be undeservedly negative treatment by the press. In February, he came to her defense amidst reports that Ivanka's products had been dropped by multiple retailers. "I am so proud of my daughter Ivanka," he wrote. "To be abused and treated so badly by the media, and to still hold her head so high, is truly wonderful!"
During a G-20 meeting on Saturday focusing the launch of a fund to promote women's entrepreneurship in developing countries, the president once again lamented the criticism his daughter receives, saying her life would be "so much easier for her" if she weren't his daughter and that her relation to him "might be the only bad thing she has going."