Trump Calls On Senate Republicans To Try Again On Health Care Repeal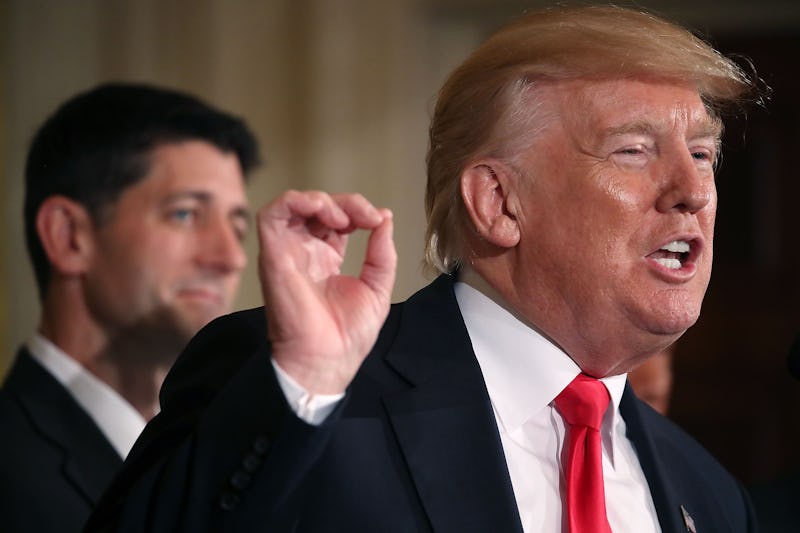 Mark Wilson/Getty Images News/Getty Images
On Saturday afternoon, less than 48 hours after a last-minute, dramatic "no" vote from Arizona senator John McCain seemingly sunk the Senate GOP's health care repeal effort once and for all, President Trump called for yet another attempt. Despite the widespread assumption that the downfall of the so-called "skinny repeal" bill signaled the end of Senate Majority Leader Mitch McConnell's efforts to undo the Affordable Care Act, Trump demanded Senate Republicans take another health care vote in an aggressive tweet, calling them "total quitters" if they fail to do so.
The tweet was of a similar theme with ones the president sent earlier in the day, insisting that failure to repeal the ACA (popualrly known as Obamacare) would leave Americans to deal with a "imploding" health care system, and exhorting McConnell to do away with the Senate's longstanding filibuster rules.
In the past, and as recently as Friday, Trump has insisted he'd prefer for the Obamacare law to collapse for lack of reforms and fixes, thus ostensibly reaping political advantage from the fallout, and forcing Democrats to cooperate on passing a replacement plan. He seems to have had a change of heart since then, however, as he's now taunting the Senate's GOP membership for being quitters if they fail to demand another vote.
In the immediate aftermath of the failed repeal vote on Thursday night, McConnell had announced the Senate would be moving on to the National Defense Authorization Bill, or NDAA. The effort to begin considering the NDAA has since been complicated by Kentucky senator Rand Paul, who is attempting to block the process to raise issues surrounding indefinite detentions, and previous authorizations of the use of military force (AUMF).
Trump's tweets appear to highlight a deepening divide between himself and the broader Republican Party since the failure of Thursday night's repeal vote. Since then, he's replaced his original White House chief of staff Reince Priebus ― a former Republican National Committee chairman and longtime establishment operative ― with his homeland security secretary, retired general John Kelly.
According to Maggie Haberman of The New York Times, McConnell is not appreciative of the armchair legislating from the president, having already told him to stop demanding the filibuster be abolished. The demand doesn't make a ton of sense in the current context, either ― the "skinny repeal" bill wasn't defeated by way of the filibuster, but thanks to the GOP's inability to cobble together 50 votes, a straight majority vote.