Trump Describes The "Free Speech" Counter-Protesters In Boston As "Anti-Police Agitators"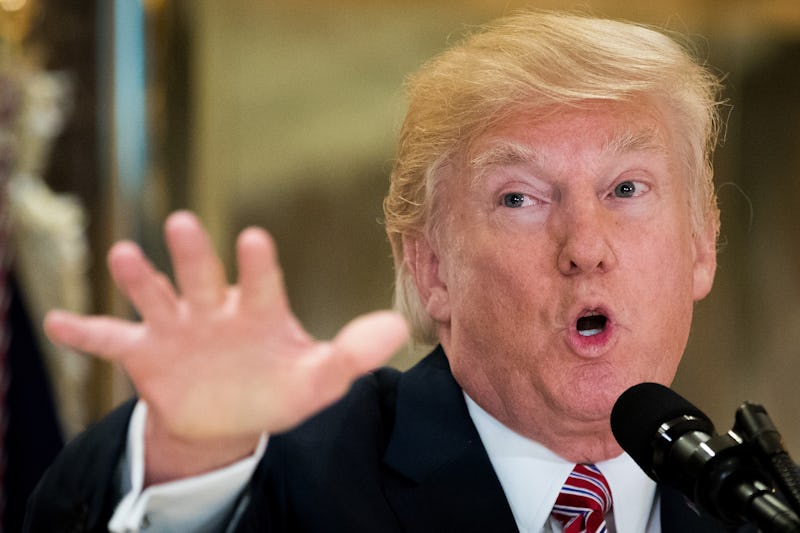 Drew Angerer/Getty Images News/Getty Images
On Saturday afternoon, responding for the first time to the planned white supremacist rally that got dwarfed by a massive anti-racist counter-protest, President Donald Trump's first Boston tweet focused on "anti-police agitators." Specifically, Trump tweeted "it looks like many anti-police agitators in Boston," and praised the police for "looking tough and smart!"
Update: More than an hour after his initial reaction, Trump followed-up with a tweet "[applauding] the many protestors in Boston who are speaking out against bigotry and hate."
If this were someone's only introduction to the white supremacist rally and massive counter-demonstration that just happened in Boston, they'd probably be left with a lacking understanding of what actually happened, as detailed in a wealth of reporting. In the aftermath of the violent white supremacist protest in Charlottesville, Virginia last week ― protests which turned deadly, as 32-year-old anti-racist protester Heather Heyer was slain in a vehicular attack ― and with a similar event planned for the Boston Commons on Saturday, thousands of people turned out for an overwhelmingly peaceful anti-racist response.
While offering his first public comment on the dramatic public stand against racial hatred in the United States, Trump focused his attention on "anti-police agitators." This comes the same week as he claimed hatred and bigotry had existed "on many sides" in Charlottesville, and subsequently drew a moral equivalence between neo-Nazi and anti-racist demonstrators during a combative and rambling press conference.
To be clear, what Trump's likely referring to are the approximately 20 arrests that took place at the protest, according to The Boston Globe. But the fact that Trump would focus on that narrow element of the story, while already under scrutiny for his attitude and public statements towards white supremacists, is definitely noteworthy.
According to multiple reports, the actual "free speech" rally that was drawing white supremacists to the scene disbanded early, in the face of the overwhelming number of counter-demonstrators who showed up.
Moments after tweeting about "anti-police agitators" in Boston, Trump followed up with more praise for law enforcement, and for Boston's Democratic mayor, Marty Walsh.
He again paid no similar compliment, however, to the thousands of citizens who turned out to stand against white supremacists, nor did he even mention them. It remains to be seen whether he'll comment any further on the Boston protests ― he actually withdrew from attending the annual Kennedy Center Honors on Saturday, not wanting to create a "political distraction" due to the continuing fallout from his response to Charlottesville. In other words, it's unclear how eager he and the administration will be to offer more reaction.