President Trump Insults Women In Boeing Remarks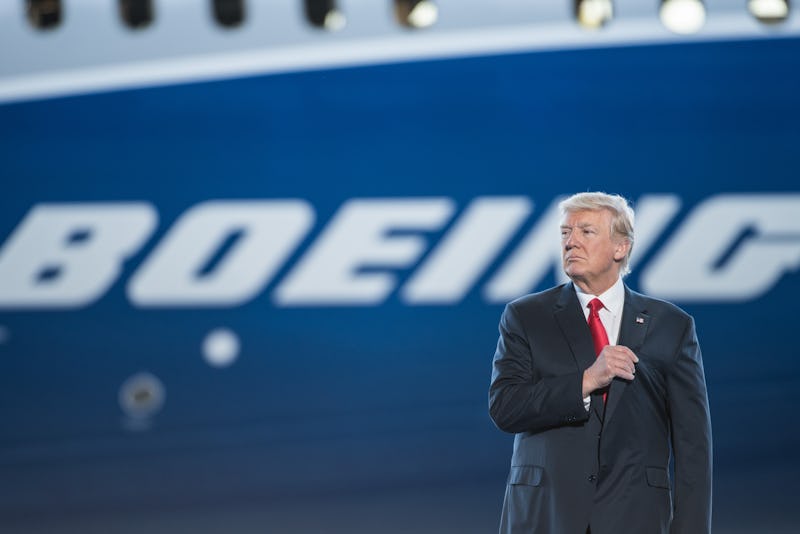 Sean Rayford/Getty Images News/Getty Images
Although I have never paused to ask myself "would Donald Trump find me, a 30-year-old woman, beautiful?" today I know the answer nonetheless. While speaking Friday at the unveiling of Boeing's new 787 Dreamliner in Charleston, South Carolina, President Trump subtly insulted women of a certain age by implying that even hunks of aluminum were more beautiful than them.
"What can look so beautiful at 30?" Trump asked the crowd gathered Friday in Charleston, South Carolina. The answer was not former model Melania Trump, the president's 46-year-old wife. Nor was the answer 35-year-old Ivanka Trump. In fact, the answer was not even a woman at all. No, the answer was an airplane.
"I'm being very, very serious – the new Air Force One, that plane, as beautiful as it looks, is 30 years old," President Trump said at Boeing's unveiling Friday. "Can you believe it? What can look so beautiful at 30? An airplane."
While Trump appeared surprised that, at 30 years old, Air Force One was still such a looker, he also lavished compliments on Boeing's much younger 787 Dreamliner. "That is one beautiful airplane," President Trump said. "What an amazing piece of art. What an amazing piece of work."
While you may have thought the president would attempt to exude a certain standard of grace, it's not altogether surprising that Trump would capitalize on an opportunity to take a jab at women over the age of 30. Before he became the 45th president of the United States, Trump was outspoken about his distaste for women who had, according to him, aged past their prime.
"Thirty is like a perfect age", Trump once said in an interview with radio talk show host Howard Stern. But while 30 was "a perfect age" for women, 35 was "called check-out time," Trump said, implying women of that age were too old to qualify as potential relationship partners by his standards.
Aside from disparaging women over the age of 30, Trump has also mocked numerous women including German Olympic gold medal ice skater Katarina Witt, Rosie O'Donnell, and Arianna Huffington for their age or physical appearance over the years. In fact, Trump's seemingly sexist and misogynistic views on women are hardly news at this point, having been a large topic of discussion and analysis throughout the 2016 presidential campaign.
Still, one can dream of a day when the president doesn't slip snide remarks about women into official remarks can't they?