This 'New York Times' Report Just Shattered Trump's Image As A Self-Made Billionaire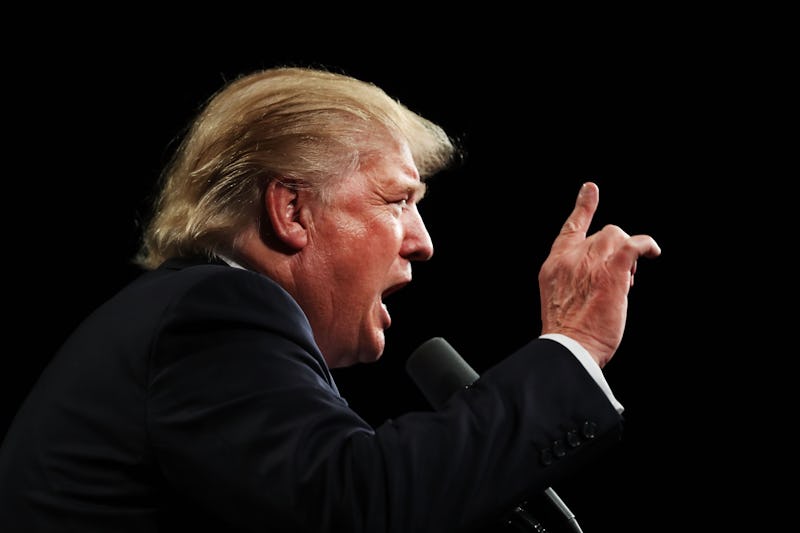 Spencer Platt/Getty Images News/Getty Images
On Tuesday, the New York Times released a massive, in-depth report on the Trump family's financial dealings, and it contained some bombshells. The Times reports that Donald Trump received hundreds of millions of dollars from his father's business profits, effectively shattering his personal brand as a self-made tycoon who built his empire from next to nothing. It also alleges extensive use of tax avoidance schemes and "fraud" by the Trump family in order to inflate its wealth.
Bustle has reached out to the White House and Charles Harder, one of Trump's attorneys, for comment on the report. In a statement to the Times, Harder denied the Times' report of fraud and tax evasion, but did not address how much money Trump was given by his father. "The New York Times's allegations of fraud and tax evasion are 100 percent false, and highly defamatory," Harder told the Times. "There was no fraud or tax evasion by anyone. The facts upon which The Times bases its false allegations are extremely inaccurate."
The Times' 14,000-word report is based on over 200 tax forms from the Trump family that the paper acquired, and the result is a dizzyingly complex but highly revealing portrait of how the president of the United States accumulated his wealth. In total, the Times found that Trump received at least $413 million from his father's real estate business, money that he had begun accumulating when he was just 3 years old.
The Times report obliterates many of Trump's claims about how he accumulated his wealth. More generally, it flies in the face of the "self-made" brand he's used for decades to promote his brand, his presidential campaign and, more broadly, himself.
"You see, I built what I built myself," Trump told Charlie Rose in a 1992 interview. "I did it by working long hour, working hard and working smart."
"I built this empire myself," he told Nancy Collins in a 1994 interview. "Nobody did it for me."
"I started off with a very, very small amount of money," Trump said 22 years later during a CNN town hall. "I started off with $1 million and now I'm worth over $10 billion."
According to the Times, however, Trump was a millionaire by the time he was 8 years old, and was receiving $1 million a year from his father by the time he graduated college. The Times reports that this started when he was a toddler and continued into adulthood: Young Trump was getting the $200,000, in 2018 dollars, every year by the time he was 3 years old; that ballooned to $5 million a year in his 40s and 50s, according to the Times.
Trump has, at times, explicitly denied that his father gave him a significant amount of money, claiming that he received only a $1 million loan that he had to pay back.
"My father didn't leave a great fortune," Trump said in 2016. "It was Brooklyn and Queens real estate, and it wasn't a great fortune. But now what they do is, they build it up like, 'oh, he left Donald money.'" According to the Times, Trump's father gave him "loan after loan," and many of them were never repaid. In totality, Trump received money from no fewer than 295 different streams of revenue that his father had set up, according to the Times' count.
The Times reports that before Trump's father died, the family made extensive use of questionable tax schemes to increase their fortune. According to the Times, these methods included undervaluing the family's own assets and declining to report transfers of wealth to the IRS. Whether these schemes were illegal or not is a matter of debate; the Times says that Trump and other members of his family committed "overt fraud," but Harder strongly contested this characterization to the Times.
"All estate matters were handled by licensed attorneys, licensed C.P.A.s and licensed real estate appraisers who followed all laws and rules strictly," Harder said. "Should The Times state or imply that President Trump participated in fraud, tax evasion or any other crime, it will be exposing itself to substantial liability and damages for defamation."