Trump Walked Out Of The Room Before Signing His Executive Orders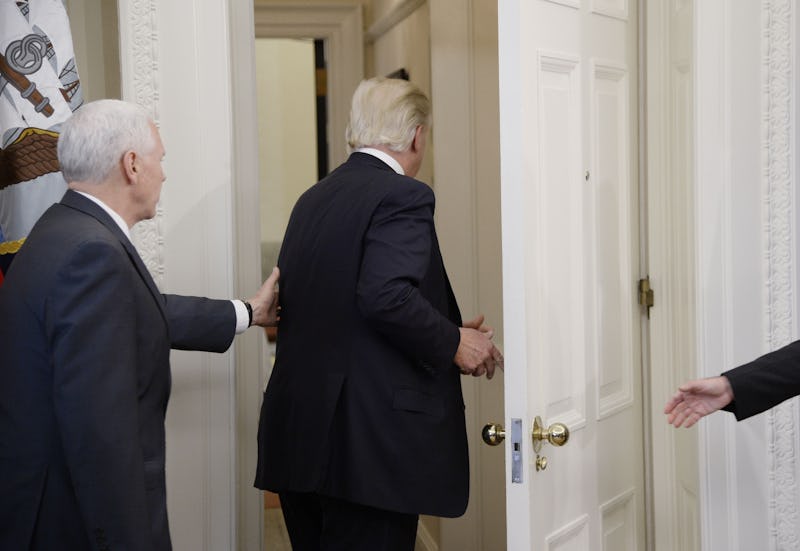 Pool/Getty Images News/Getty Images
On Friday, the Trump administration unveiled two new executive orders on trade. Gathering in the Oval Office for a photo-op with Vice President Pence and Secretary of Commerce Wilbur Ross, President Trump declared that the new orders will "get these bad trade deals straightened out." Then he left. What he didn't do, though, was add his signature to the policy changes he'd just announced. That's right: Trump held an executive order signing ceremony without actually signing any executive orders.
"Thank you, everybody," Trump said from behind podium after explaining the orders. "You're going to see some very, very strong results very, very quickly. Thank you very much." He began to walk away, and when a reporter asked him a question about the ongoing saga of former National Security Advisor Michael Flynn, he kept walking.
Pence, seemingly aware of what had just happened, trotted after the president, and gently touched his shoulder in the doorway to get his attention. Trump paused, and after a brief exchange with Pence — which is sadly inaudible in the video posted by the White House — the president left the room. Pence walked back and retrieved the folder containing the executive orders, which Trump had left on his desk, and followed his boss out of the room. According to CNN, Trump later signed the orders in a different room.
Some speculated that Trump scurried away in order to avoid talking about Flynn. However, the video clearly shows him making a move for the door before the Flynn question was asked.
The two executive orders that he eventually signed both tackle U.S. trade policy, one of Trump's pet issues. The first of the pair directs the Department of Commerce and the U.S. Trade Representative — the latter being a position that Trump has not yet filled — to conduct a 90-day study into America's trade deficit to determine to what extent, if any, trade abuse and fraud has contributed to the deficit. The second order will reportedly strengthen the government's ability to enforce anti-dumping laws, a form of trade manipulation in which foreign manufacturers attempt to undercut U.S. suppliers by selling goods at artificially low prices. Trump said that once his trade policies are in full effect, "the theft of American prosperity will end."
"If anyone had any doubt about the president's resolve to fix the trade problems, these two executive orders should end that speculation now and for all time," Ross said during the ceremony. "This marks the beginning of the totally new chapter in the American trade relationship with our partners overseas."