Trump Wants Rob Porter To Have A "Great Career" Despite Domestic Violence Allegations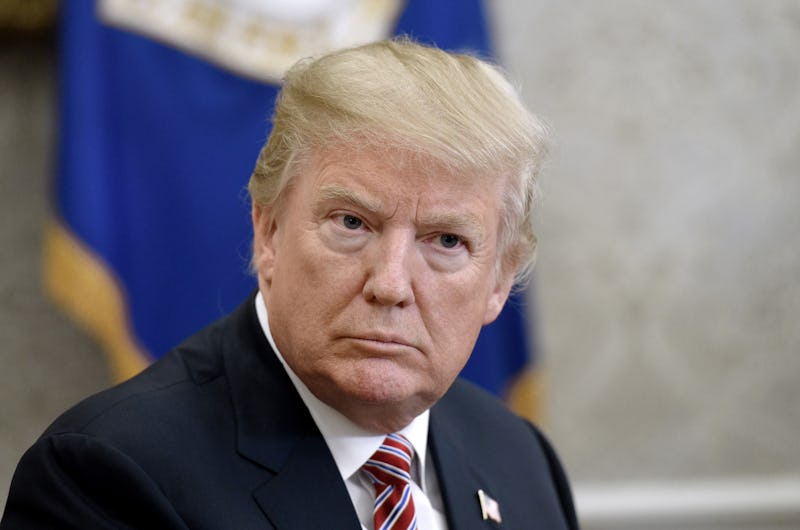 Pool/Getty Images News/Getty Images
On Friday, the Trump administration finally announced and addressed the departure of former White House staff secretary Rob Porter, who resigned his post this week in light of multiple allegations of domestic violence against him. But despite the seriousness of the claims, his old boss seems pretty sad about Porter's departure ― in fact, President Donald Trump hopes Porter "has a wonderful career," as he made clear in remarks on Friday.
Porter, who worked closely with White House chief of staff John Kelly, has been accused of domestic abuse by his two ex-wives, Colbie Holderness and Jennifer Willoughby. Holderness also released a photo of her own bruised face, discolored and with a black eye, saying it showed the aftermath of one of Porter's attacks. Porter has denied the abuse allegations even as he's resigned, calling them "false" and part of "a coordinated smear campaign."
In remarking to the press about Porter's departure from the White House on Friday, Trump did not mention either of his accusers, address the graphic and disturbing photo of Holderness, or express any specific sentiment about the violent nature of the allegations. Rather, he strictly described the situation in terms of what it meant for Porter personally, and for the White House.
We wish him well, he worked very hard. I found out about it recently, and I was surprised by it. But we certainly wish him well, it's obviously a tough time for him. He did a very good job when he was in the White House, and we hope has has a wonderful career, and hopefully he will have a great career ahead of him. But, it's very sad when we heard about it, and certainly he's also very sad.
Trump also referenced the fact that Porter has denied the allegations, raising the possibility, although not saying so specifically, that he too might doubt the claims of Porter's ex-wives.
"Now, he also ― as you probably know, he says he's innocent, and I think you have to remember that," Trump said. "He said very strongly yesterday that he's innocent, so you'll have to talk to him about that. But we absolutely wish him well, he did a very good job while he was at the White House."
This kind of statement regarding deeply disturbing allegations against political allies is nothing new for Trump. During the Alabama senate race last year, Trump endorsed Republican candidate Roy Moore after he was accused of being a child molester in a deeply source story by The Washington Post. Specifically, Trump defended Moore by noting that the 70-year-old former judge "totally [denied] it."
Moore was accused of molesting a 14-year-old girl and sexually assaulting a 16-year-old girl while in his 30s, among other claims. Moore aggressively denied the allegations, portraying them as false and politically motivated.
Trump himself has also been the subject of multiple allegations of sexual misconduct, claims about which he's issued blanket denials. In the run-up to the 2016 presidential election, and following the release of leaked audio in which he boasted about unwanted groping and kissing to then-Access Hollywood host Billy Bush, Trump was accused by more than a dozen women of various forms of sexually predatory behavior.
Trump denied all the allegations, calling his accusers "horrible, horrible liars" and insisting "the events never happened."
Furthermore, Trump's original nominee for Labor Secretary last year, fast food executive Andy Puzder, ultimately withdrew amid domestic violence allegations. He has also denied the claims.
In short, these have been recurring themes within the Trump administration so far, and it's helped contribute to a massive groundswell of women-led opposition. Obviously, it remains to be seen whether that opposition will hurt the Republican Party at the ballot box later this year. But with statements like Trump just made about Porter, it's not hard to imagine.