Trump Is Skipping Out On This Historic Ceremony For The Second Time In A Row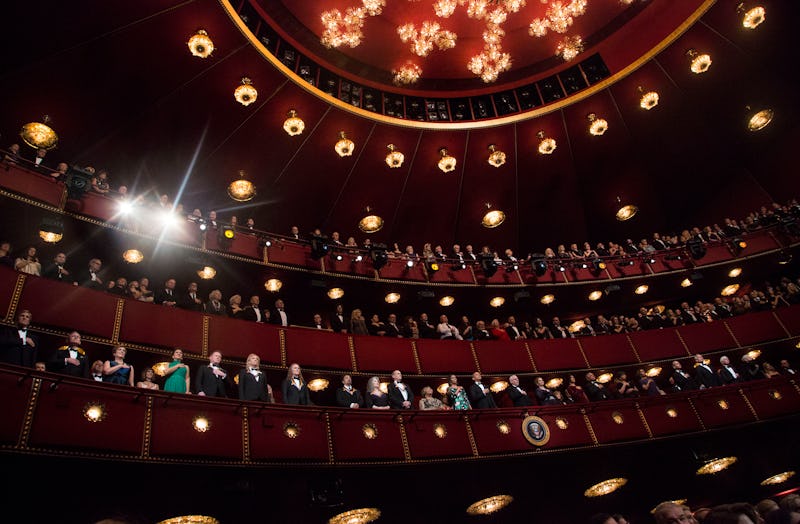 Pool/Getty Images News/Getty Images
For the second year in a row, Trump is skipping the Kennedy Center Honors Gala on Dec. 2 at the Opera House. The gala, which honors the lifetime achievements of a handful of performance artists each year, has been a staple of every president's calendar since 1978, excusing three occasions in which presidents were not been able to attend due to unforeseen conflicts and national security crises. But POTUS and the first lady didn't attend last year after several recipients publicly said they wouldn't attend a White House reception hosted by Trump, and it appears that this year will be no different.
In a brief statement on Tuesday via The Washington Post, Melania Trump's spokeswoman, Stephanie Grisham, said that the couple wasn't planning to attend the fundraiser "at this time."
Trump's refusal to attend the gala isn't the only massive break in tradition; his refusal to host a White House pre-performance reception for the second year in a row reflects another way in which he has diverged from presidents in the past.
It's hardly surprising that Trump has chosen once more to skip the Kennedy Center Honors. Two of the awardees this year are notably outspoken critics of Trump, including Cher and the creators of Hamilton. The other award winners are Reba McEntire, jazz musician Wayne Shorter, and composer Philip Glass; the creators of Hamilton are technically not receiving the standard Kennedy Center Honors, but a special Honors for "groundbreaking work."
To the Associated Press, Cher said she was "thrilled" Trump wouldn't be attending the gala. She said, "I'm just trying to figure out what I'm going to wear."
As for Lin-Manuel Miranda, the writer of Hamilton, he has not commented on Trump's plans to not attend the gala. But his feelings on POTUS have been extremely pointed in the past. On Sept. 20, 2017, when Trump criticized Puerto Rico's mayor in the midst of Hurricane Maria relief efforts, Miranda tweeted, "You're going straight to hell, @realDonaldTrump. No long lines for you. Someone will say, 'Right this way, sir.' They'll clear a path."
Since becoming president, Trump has maintained a frosty relationship with several organizations representing national celebrations of art. Twice, he has called for the elimination for the National Endowment of the Arts, and in 2017, members of President's Committee on the Arts and the Humanities collectively resigned.
One committee member, producer Eric Ortner, said of the decision, "Our job is to protect those who tell America's story, we wanted to be on the right side of history."
In addition to his refusal to attend the Kennedy Center Honors, Trump has also maintained another boycott of the arts during his presidency. He has not awarded anyone with a National Medal of Arts or a National Humanities Medal. The last awards given out were in 2016 by Barack Obama.
During her statement on Tuesday, Grisham further confirmed that it was "not likely" there would be any new winners of either of those medals before the end of the year.