Trump Is Reportedly Worried His Son May Have Broken A Law — But Only On Accident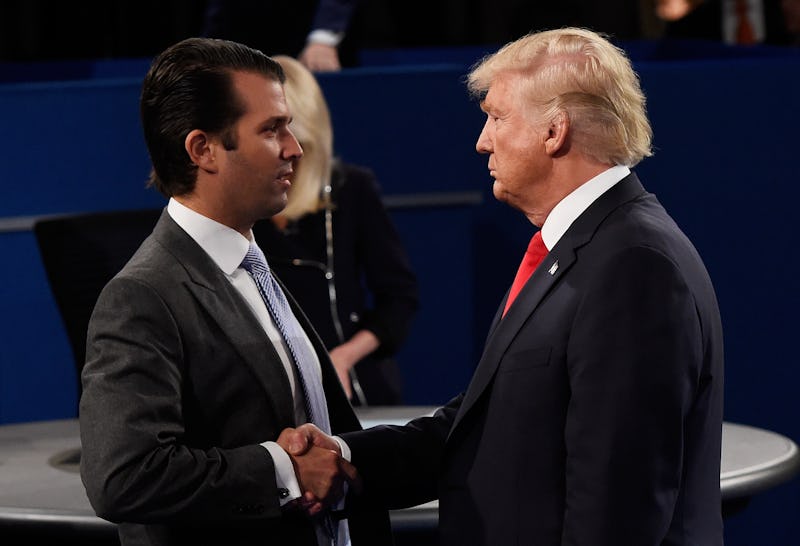 Pool/Getty Images News/Getty Images
The president is increasingly worried about the Russia investigation, The Washington Post reported Saturday. And according to reports, though publicly he's been on a rampage against Special Counsel Robert Mueller, privately Trump is concerned Don Jr. may be in legal trouble — even if it was all accidental.
The key issue is the meeting that happened at Trump Tower in the summer of 2016 when Donald Trump Jr. and others from the business and campaign met with a lawyer with ties to the Kremlin to talk about potential dirt on Hillary Clinton.
According to the report, the president has apparently told friends and advisers he is concerned for "innocent and decent people" who could suffer, like Trump, Jr. The Post reported he "is fearful nonetheless that Trump Jr. inadvertently may have wandered into legal ­jeopardy."
Trump responded on Twitter early Sunday, denying the report. "Fake News reporting, a complete fabrication, that I am concerned about the meeting my wonderful son, Donald, had in Trump Tower," Trump wrote. "This was a meeting to get information on an opponent, totally legal and done all the time in politics — and it went nowhere. I did not know about it!"
Trump's story on the meeting has changed several times since the news first broke. The first response to the allegations that Trump Jr. held this meeting was to say that in the end it was a waste of time and they "primarily discussed a program about the adoption of Russian children" and not anything vital to the campaign.
But then it came out that Trump had dictated the statement released by his son. The adoption excuse was contradicted by emails that showed music publicist Rob Goldstone promised political dirt, not an adoption talk. Trump Jr. responded enthusiastically. "If it's what you say I love it especially later in the summer," he wrote in an email to Goldstone.
The fear for his son is no the only thing that Trump refuted in his tweet Sunday. His point that he didn't know about the meeting in advance was a subtle comment on reports that his formal personal lawyer and business partner Michael Cohen can testify that Trump knew about the meeting in advance. That has already been denied by Rudy Giuliani, who joined Trump's legal team in April.
The report in The Post also delved into Trump's thoughts on the investigation as Democrats look poised to take over the House and potentially begin more investigations. Publicly he has been on a rampage, even asking the attorney general to intervene.
"Attorney General Jeff Sessions should stop this Rigged Witch Hunt right now, before it continues to stain our country any further," Trump tweeted last week.
Most of the communications strategy comes from the president himself, with his lawyers then finding a way to make their legal argument along side it.
"With his great feel for public opinion and how to deal with it, he has a sense about what would work, what to say," Giuliani told the paper. "He sort of determines the public strategy, and we get his approval and input for the legal strategy."
As the case against his former campaign chairman Paul Manafort addresses, Trumps outbursts may continue. Trump tells those close to him that Manafort "has absolutely nothing to do with me."
The same cannot be said for Trump Jr.