Trump Showed Up To A G7 Gender Equality Meeting Late, So They Just Started Without Him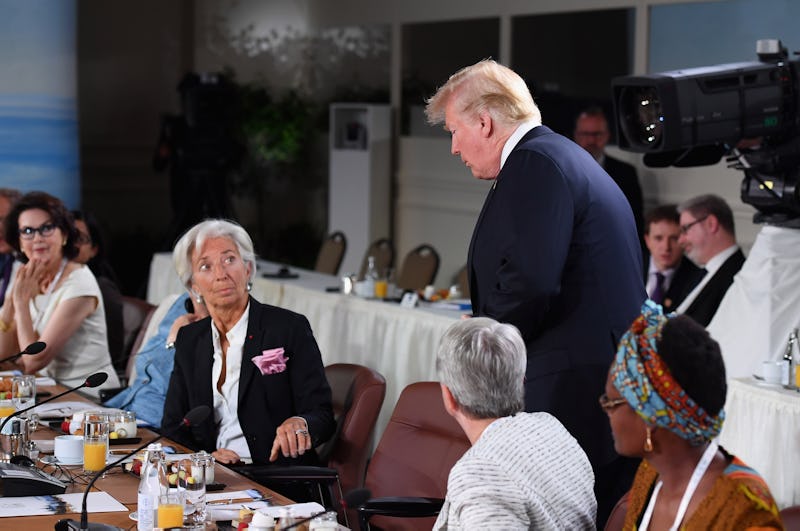 Leon Neal/Getty Images News/Getty Images
While U.S. tariffs have dominated many of the headlines surrounding this year's G7 Summit so far, trade isn't the only topic slated to be discussed. Heads of states met with a gender equality advisory council on Saturday to discuss how the Group of Seven might advance gender equality at home and abroad. But one leader was conspicuously tardy to the conversation. President Donald Trump arrived late to the G7 gender equality breakfast meeting, and they started the event without him.
According to multiple media and press pool reports, President Trump and his team walked into Saturday's morning meeting after Canadian Prime Minister Justin Trudeau, who'd created the gender advisory council, had already given his opening remarks. Per reports, President Trump took his seat as the council's co-chair, Canadian Ambassador Isabelle Hudon, was in the middle of speaking.
Trump's late arrival reportedly caused some disruption to the meeting. According to the Toronto Star, security's efforts to clear a path for the tardy U.S. president through the crowd of reporters covering the meeting served to detract attention from Hudon. Trump walking in late also generated a flurry of photography "to the point that the noise of all the cameras almost drowned out Hudon's remarks," The Star also reported. Both Trudeau and Hudon repeated their remarks following Trump's late arrival, according to the Canadian Broadcasting Corporation (CBC).
Co-chaired by Hudon and American philanthropist Melinda Gates, the G7 gender equality advisory council includes Nobel laureate and Pakistani education activist Malala Yousafzai as well as International Monetary Fund Managing Director Christine Lagarde. According to the official website for this year's G7 Summit, advisory council members were selected for "their work and achievements, commitments to advancing gender equality and capacity to influence public discourse and contribute ideas that reach beyond traditional government-to-government relations." There are 21 members in total.
In April, Trudeau said he'd been inspired to make gender equality and women's empowerment central themes of this year's G7 Summit because "women's empowerment is a key driver of economic growth that works for everyone." The Canadian prime minister went on to say that "all of us benefit when women can participate freely, fully, and equally in our economies and society, and supporting and empowering women and girls must be at the heart of the decisions we make."
Yet Saturday's gender-focused breakfast wasn't the only time President Trump walked in somewhat late while meeting with heads of state from the Group of Seven. In fact, tardiness appears to be a running problem for President Trump throughout this year's G7 Summit in Canada.
The U.S. president arrived to the two-day summit in La Malbaie, Quebec, Canada on Friday later than he had been expected. According to CNN, Trump started day one of the G7 Summit behind schedule, emerging from the White House Friday morning 30 minutes late only to spend another 20 minutes speaking with reporters on the South Lawn before actually departing for the summit. His late arrival Friday meant Trump missed his one-on-one meeting with French President Emmanuel Macron. The one-on-one was rescheduled for later in the day, according to New York Magazine.
President Trump is also expected to leave the summit four hours earlier than initially scheduled — missing talks on climate change, clean energy, and ocean health — in order to meet with North Korean leader Kim Jong Un in Singapore.
President Trump issued a series of statements ahead of and throughout the G7 — including one calling for Russia to be reinstated to the G7 and one arguing the U.S. was being "taken advantage of" when it came to trade with G7 countries — that appeared only to further fan tensions between him and the other leaders at this year's summit. The rift between Trump and the other G7 leaders has led some to question if the U.S. will sign the statement of comity traditionally issued at the close of the G7 Summit.