Trump Joked About Being President For Life, But Here Are 7 Times It Felt Serious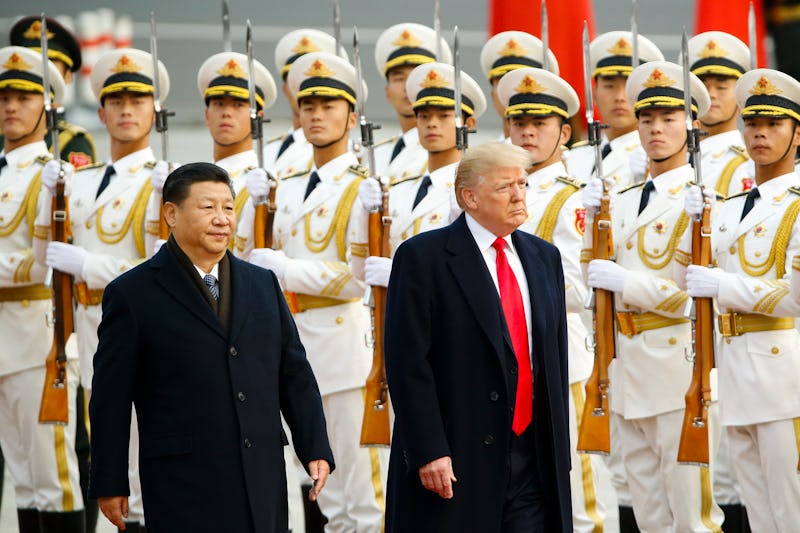 Pool/Getty Images News/Getty Images
The president hasn't ever shied away from praising dictators with his words, most recently when Trump praised Chinese president Xi Jinping's action to make himself president for life.
"He's now president for life. President for life. No, he's great," Trump said of Xi working to eliminate term limits on China's presidency. "And look, he was able to do that. I think it's great. Maybe we'll have to give that a shot some day."
Trump has praised multiple authoritarian leaders before, from saying Putin has "very strong control" over his country to saying Egyptian strongman leader Abdel-Fattah el-Sissi did a "fantastic job in a very difficult situation" in his home country. Trump has also made numerous comments about the American system that indicate that he himself has dictatorial tendencies, like when he has suggested that freedom of the press should be limited or even, recently, that guns should be taken without due process of law. While the left generally responded positively to the suggestion, Fox News' Tucker Carlson didn't agree.
"Imagine if Barack Obama had said that? 'Just ignore due process and confiscating guns.' Obama would have been denounced as a dictator," Carlson said about Trump's comments on gun control. "Congress would be talking impeachment right now. Someone would be muttering about secession."
Beyond just words, whether a joke like the Xi comment or more serious like the comments about taking away guns, the U.S. president has moved into a very dictatorial realm in terms of his actions as well. Here are a few of the instances in which Trump's actions have shown his dictatorial tendencies.