Kirsten Gillibrand Tweeted That "Our Future Is Female," So Naturally Don Jr. Got Mad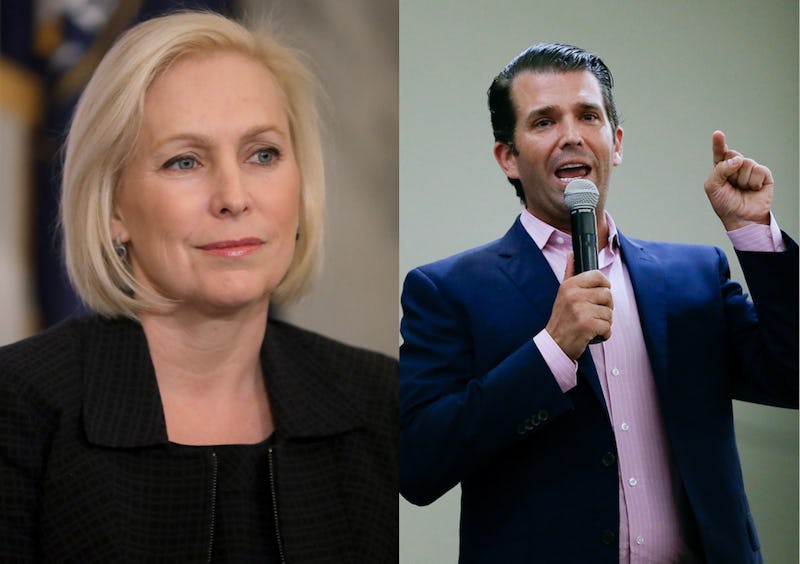 Chip Somodevilla/Getty Images News; Bob Levey/Getty Images Entertainment/Getty Images
On Tuesday, Sen. Kirsten Gillibrand sent out a brief tweet championing a progressive, equitable future. But the relatively innocuous message received some heavy push back from Republicans, including Donald Trump Jr., whose response to Gillibrand's tweet accused the Senator of excluding men's success from her societal goals.
Gillibrand's tweet, which broadly referenced key progressive ideals, was simple: "Our future is: Female, Intersectional, Powered by our belief in one another. And we're just getting started."
The tweet appeared to reference the well-known tagline, "the future is female." This was the part that Trump Jr. appeared to take issue with.
Quoting Gillibrand's original blurb, Trump Jr. wrote, "Good to know. My girls will be excited about this. When is it appropriate to let my boys (9, 7 and 6 years old) that there's no future for them? Not sure this is a winning platform but you be you."
Many others responded to Gillibrand similarly, claiming that she was promoting a vision of the country wherein women would dominate men, and accusing her of levying identity politics. But while the phrase "the future is female" has been widely criticized in recent years, those critiques often come from people who say the tagline excludes people who live outside the realm of cissexuality. In other words, they argue, the phrase isn't inclusive enough.
But Gillibrand's tweet continued, including the term "intersectional" and the phrase "powered by our belief in one another," indicating that the message's intent was not to project an image of a future wherein people who identify as women dominate everyone else. However, many critics accused her of just that.
Sen. Marco Rubio was also among those to take issue with Gillibrand's message. In his own response he tweeted, "Our future is: AMERICAN. An identity based not on gender,race,ethnicity or religion. But on the powerful truth that all people are created equal with a God given right to life,liberty & the pursuit of happiness."
Gillibrand's tweet — and the responses to it — come as a newly elected class of congresswomen are poised to take office in January. And the record number of women heading to Congress has prompted discussions about what gender equity in government could and should look like. While neither Gillibrand nor the high profile figures who responded to her directly mentioned this in their tweets, this shift in Congressional gender makeup is the backdrop for their discourse.
It's not entirely clear why Trump Jr. and Rubio understood Gillibrand's message to mean that boys should not have a future, or how it might have been oppositional to the idea of what it means to be "American." Intersectionality, itself, is concerned with the notion that different societal categorizations often overlap, whether that be race, gender identity, class, or anything else. The very idea of intersectionality, in other words, opposes exclusivity and recognizes that people are nuanced and diverse, both as people and as people with lived experiences. But that didn't stop some critics from piling on, as is often the case with the internet.