Trump & Kim Jong Un's Handshake In Hanoi Kicks Off A Second Historic Summit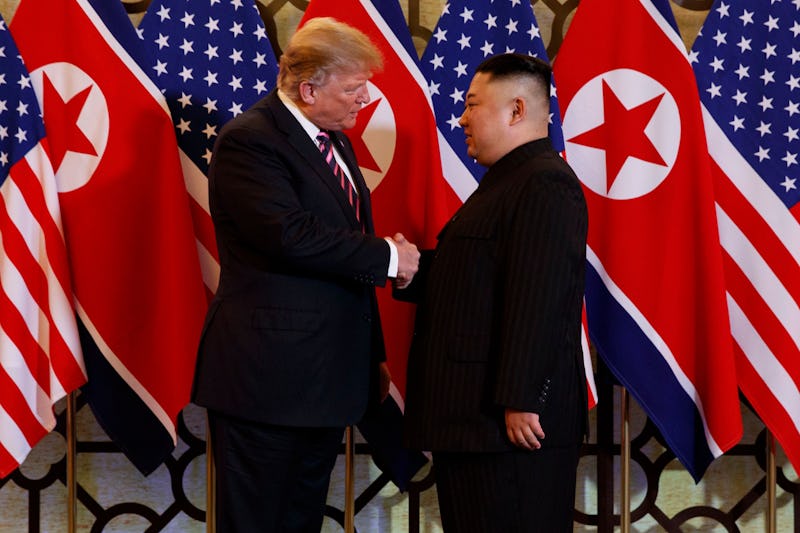 Evan Vucci/AP/Shutterstock
On Feb. 27, the U.S. president and North Korea's leader gathered for a second summit in Vietnam, following an initial historic meeting in Singapore last June. In Hanoi, Trump and Kim Jong Un's handshake kicked off this follow-up meeting, with many around the world watching as the two leaders came together once again.
Trump is the only sitting American president who has met with a North Korean leader — and now he's doing so for a second time. The Hanoi summit will take place on Wednesday and Thursday.
As the HuffPost reported, the two leaders will likely discuss denuclearization (nuclear weapon removal) of the Korean peninsula at this meeting, though it's not yet clear how far these discussions will go. At their initial summit in June 2018, Trump and Kim signed a joint statement in which North Korea committed to some denuclearization initiatives in exchange for the United States committing to providing "security guarantees" to North Korea, Vox noted. However, as the HuffPost indicated, there seems to have been little progress in achieving these commitments.
Moreover, ahead of this summit, the White House has sought to manage expectations for what Trump and Kim may achieve in their second-ever meeting, Time reported. "President Trump has also said this [negotiating with North Korea] is going to take time," Secretary of State Mike Pompeo said on Fox News Sunday this weekend. "There may have to be another summit. We may not get everything done this week."
When reporters asked Trump on Wednesday if he would walk back his previous insistence that the Korean Peninsula be denuclearized, Trump simply responded, "No," according to CNN. He also called Kim "a great leader" and said North Korea has "tremendous economic potential," per NPR.
Kim referenced past "hostility" between the two nations through an interpreter, as NPR reported. "However, we have been able to overcome all those obstacles and here we are today," he said. "And I hope that we can provide an outcome that is welcome to everyone and I am sure that we can do this."
Trump also spoke about the summit on Twitter the same day.
"All false reporting (guessing) on my intentions with respect to North Korea. Kim Jong Un and I will try very hard to work something out on Denuclearization & then making North Korea an Economic Powerhouse," the president tweeted from Vietnam on Wednesday. "I believe that China, Russia, Japan & South Korea will be very helpful!"
The two leaders had dinner together at the Metropole Hotel Wednesday night, though it's unclear what was discussed. Trump was accompanied by acting Chief of Staff Mick Mulvaney and Secretary of State Mike Pompeo. Kim's entourage included Kim Yong Chol, vice chairman of the Central Committee of the Worker's Party of Korea, and Ri Yong Ho, the minister of foreign affairs. Both men had an interpreter present, as well.
"A lot of things are going to be solved I hope," Trump said before the dinner, per the Associated Press. "I think it will lead to a wonderful, really a wonderful situation long-term."
Kim added that he was confident that Trump and he "can achieve great results that everyone welcomes."