Trump's Lawyer Responded To Stormy Daniels' Interview & Yeah, He's Not Thrilled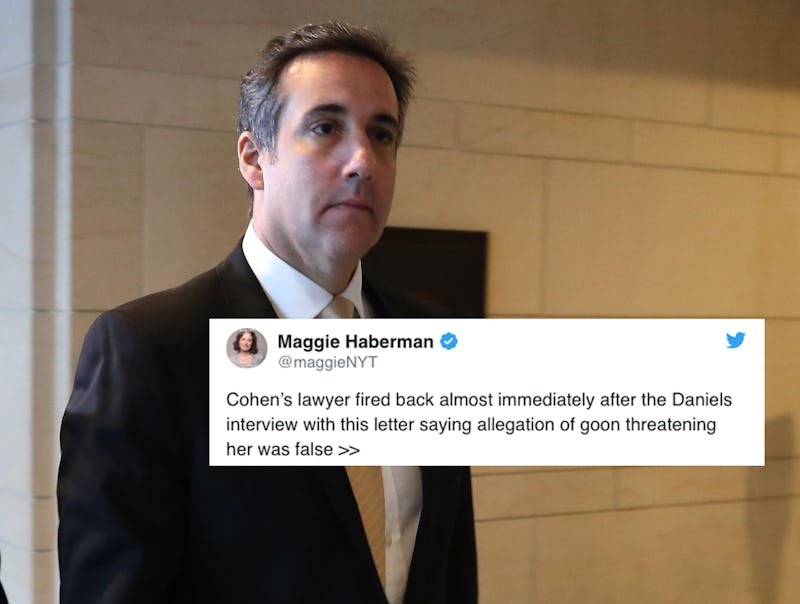 Mark Wilson/Getty Images News/Getty Images
Sunday's episode of 60 Minutes featuring the woman who claims she had an affair with Trump included bombshell after bombshell — and one more dropped Monday morning when Fox News reported on how Trump's lawyer responded to Stormy Daniels' interview. Michael Cohen, Trump's attorney who is tied up in the alleged hush money paid to Daniels, had his own lawyer respond with a cease and desist letter on his behalf.
Fox News reported that Cohen's attorney, Brent Blakely, sent the letter to Daniel's attorney, Michael Avenatti. In it, he reportedly demanded that Daniels apologize for "insinuating" that Cohen was behind a threat she reportedly received to stay quiet.
In the 60 Minutes interview, Daniels said she was approached in a parking lot by a man in 2011 who told her, "Leave Trump alone. Forget the story," and then added about Daniels' daughter: "That's a beautiful little girl. It'd be a shame if something happened to her mom." Daniels did not signal in the interview that Cohen was to blame.
The letter from Blakely denies Cohen's involvement in the incident anyway. It reads:
In truth, Mr. Cohen had absolutely nothing whatsoever to do with any such person or incident and does not even believe that any such person exists, or that such incident ever occurred.
There was other mention of Cohen in the interview. Daniels said that she was pressured into signing a statement in January saying that the affair with Trump had never happened. President Trump has denied the affair.
At the time she was pressured to sign the statement, Daniels said she was told, "'They can make your life hell in many different ways.'" When interviewer Anderson Cooper asked who she was talking about, Daniels responded, "I'm not exactly sure who they were. I believe it to be Michael Cohen."
Blakely accused Daniels of libel and "intentional inflection of emotional distress" on his client. The letter also demands Daniels not make "further false and defamatory statements" about Cohen in the future.
The cease and desist letter went further to note that much of the interview had "absolutely nothing to do with the underlying contract dispute between Ms. Daniels and Essential Consultants LLC." Blakely asked that the case be litigated "in court on the actual merits."
Daniels sued in early March to get out of the non-disclosure agreement that she had signed before the 2016 presidential election. At the time she agreed to remain silent in exchange for $130,000 paid by Cohen through Essential Consultants LLC. Cohen set the company up solely to make the agreement with Daniels.
But because the LLC made the agreement with Daniels and not Trump himself, Daniels' lawyers have said it is invalid. Trump's signature does not appear on the non-disclosure agreement, and much of the agreement, they argue, he must have officially authorized for it to be legally valid. Trump's legal team in response has tried to get the case moved from California to federal court.
Also explored on Sunday's episode was the possibility that Cohen broke campaign finance laws by paying Daniels the $130,000. Cohen has said it was his own personal money and that it was not a campaign contribution.
Trevor Potter, former chairman of the Federal Election Commission appointed by President George H.W. Bush, told 60 Minutes that he disagrees. "It's a $130,000 in-kind contribution by Cohen to the Trump campaign, which is about $126,500 above what he's allowed to give," Potter told CBS. "And if he does this on behalf of his client, the candidate, that is a coordinated, illegal, in-kind contribution by Cohen for the purpose of influencing the election, of benefiting the candidate by keeping this secret."
That legal mess has nothing to do with Daniels speaking out or not. The cease and desist letter can't solve all of Cohen's problems.