The White House May Stop Comey From Testifying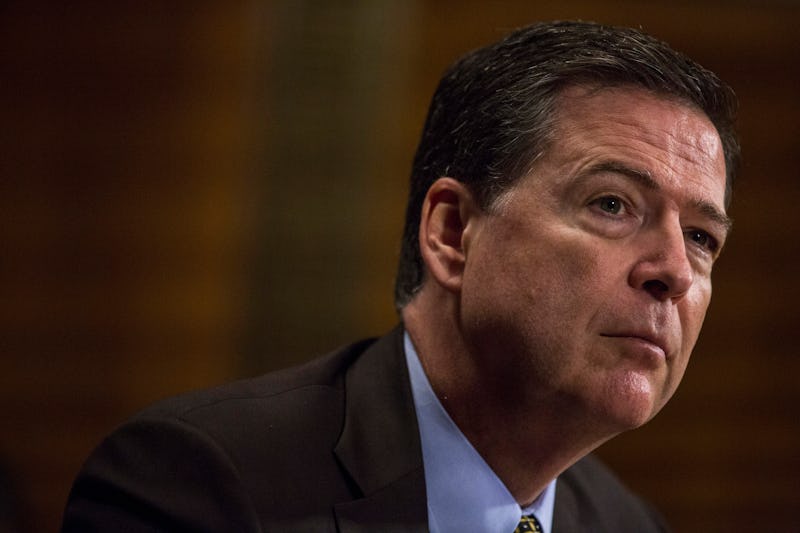 Zach Gibson/Getty Images News/Getty Images
Former FBI Director James Comey is currently scheduled to deliver public testimony to the Senate Intelligence Committee on Thursday, June 8. But according to Jennifer Jacobs of Bloomberg News, Trump might suppress Comey's testimony with an executive privilege claim ― if that claim holds up, that is.
It would be a dramatic and potentially damaging move, something that would surely further fuel the perception that the Trump administration is trying to hide something in the midst of the FBI's Trump-Russia investigation. Here's the basic idea: The Justice Department, according to the New York Times, could seek a federal restraining order to prevent Comey from testifying, citing the president's executive privilege regarding private communications with government officials.
Such a move, according to the Times, would be unprecedented. It would be far easier for Trump to scuttle Comey's testimony if he still worked for the government, but following his abrupt, unceremonious firing last month, those protections are now out the window. In short, it wouldn't be a clear-cut or simple path to blocking Comey's testimony, and it might not even hold up under a court challenge. All that considered, the fact that it'd effectively be dumping gasoline on an already raging political fire, this would be a startling move for the administration to make.
The initial decision to fire Comey presented similar concerns and pitfalls for the administration as the current decision whether or not to try to halt his testimony does. Specifically, given how massively politically disadvantageous it would be ― sending a clear message, whether accurately or not, that there's something to be feared in Comey's testimony ― to try to throw up roadblocks anyway would suggest something dire about whatever the administration is worried about.
It's essentially a nuclear option, in other words, a last-ditch attempt to keep Comey from delivering his third high-profile congressional testimony of the year. In recent weeks, anonymous sources close to Comey have told the media that he kept thorough track of all his encounters with Trump, writing contemporaneous memos after their meetings, documenting what he allegedly viewed as inappropriate attempts to deter the FBI's investigation. According to CNN, Comey is expected to testify that Trump pressured him to end the investigation.
In short, the next week figures to be huge as far as political news is concerned. If you're eager to see Comey's testimony, if it indeed happens, you should set aside some time. Again, it's scheduled for Thursday, June 8, at 10 a.m. ET, and will be aired both on cable TV and online.