Trump Just Met Norway's Female PM & Twitter Noticed Something Was Way Off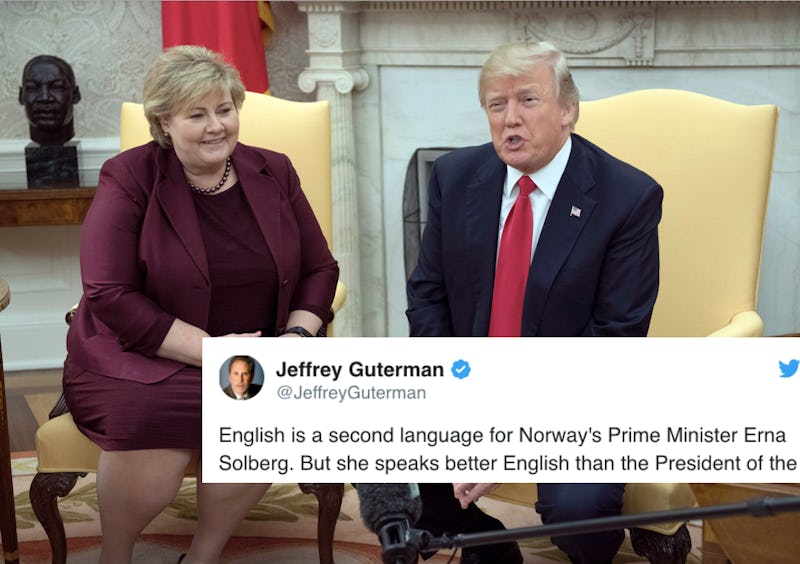 Pool/Getty News/Getty Images
On Wednesday, President Donald Trump welcomed Norwegian Prime Minister Erna Solberg to the White House. And before too long, the denizens of social media picked up on a pretty stark contrast between the two world leaders — namely, Twitter thinks the Norwegian PM speaks better English than Trump does.
It was the first visit to Trump's White House for the prime minister, and the way it unfolded was pretty strange, partly because Trump made it a point to criticize independent counsel Robert Mueller's investigation during the pair's joint press conference. Though this is far from the first time Trump has done something like this — last June, he attacked former FBI director James Comey during a joint presser with the president of Romania.
Setting aside the content of what Trump said, however, plenty of people concluded that on the basic matter of speaking fluent English, Trump was outdone by Solberg, herself not a native speaker. Throughout his time in public life, Trump has often been criticized and derided for his rambling, digressive style of speech, as well as a seemingly limited vocabulary dependent on a series of familiar words and phrases. Basically, it's no surprise that people on Twitter took notice, and made some fun out of the situation.
English Is A Second Language
Solberg, 56, first became prime minister of her country back in 2013. She's been the leader of the Norwegian Conservative Party since 2004.
It's Really Depressing
Solberg is an English speaker, which is not uncommon in Norway. In fact, it's the country's most widely spoken foreign language.
Not So Much
According to the English Proficiency Index released in 2016, Norwegians rank as the fourth-strongest non-native English speakers.
More Eloquent Than Donald Trump
Trump, for his part, has a long history of rambling statements, run-on sentences, and digressions that make very little grammatical sense.
Thank You
In an interview on Wednesday with The Washington Post, Solberg told reporters that Norway, like the United States, is still grappling with the specter of Russian interference in the political process.
Congrats!
Trump, for his part, has been far less willing to speak out against Russia broadly, and on the issue of its alleged election interference more specifically; in fact, he's frequently indicated that he believes Russian president Vladimir Putin's denials.
I Am Being Generous
As for the content of their meeting, Trump and Solberg reportedly discussed trade, national defense, and climate change.
A Way Better Grasp
Trump's notoriously stilted way of speaking has, over the past several months, led some mental health professionals to speculate over whether he's suffering from cognitive decline.
You Sounded Illiterate
The White House has made it public that Trump will undergo a physical in January, his first as president. It will not include any mental health examination, however, as they're not normally part of a presidential physical.
Sad!
For its part, the White House insists Trump is "sharp as a tack," and press secretary Sarah Huckabee Sanders has called it "disgraceful and laughable" that anyone would question his mental competence for the job.
Better English Than Trump
At the very least, the usual handshake and photo-op between Solberg and Trump went off without a hitch, which couldn't be said during German chancellor Angela Merkel's visit last year.
In short, it seems as if a whole lot of Trump's critics and opponents on social media would much sooner listen to a speech from Solberg than the American commander-in-chief. Notably, Trump also used the presser to back out of his previous offer to be interviewed by Mueller, making it a newsworthy meet-and-greet indeed.