Trump Met Santa Fe Shooting Victims' Parents & One Mom Thought He Was Like A "Toddler"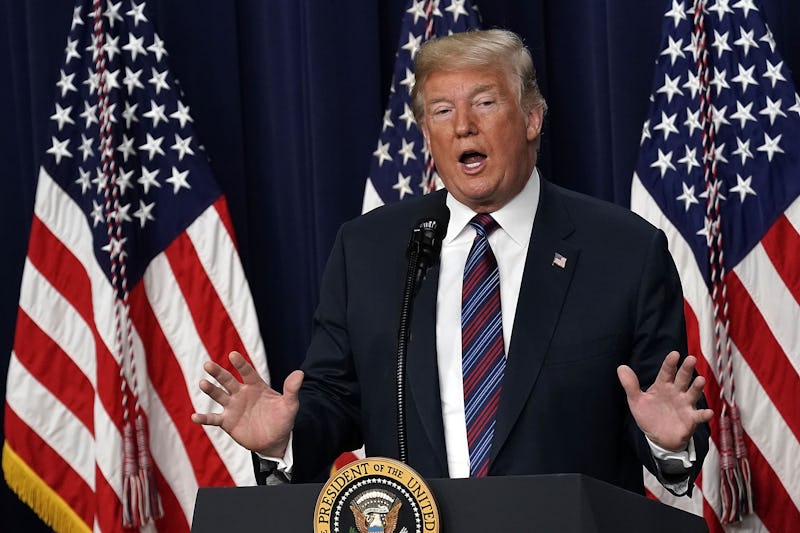 Alex Wong/Getty Images News/Getty Images
President Donald Trump went to Santa Fe, Texas, on Thursday to meet with families of victims and others affected by a recent school shooting that left 10 people dead. Parents expressed mixed feelings about his visit to the Associated Press; some were happy with his effort, but others were displeased. One Santa Fe victim's mother even said Trump acted like a "toddler" and was frustrated that he kept talking about arming teachers.
Rhonda Hart was the mother of 14-year-old Kimberly Vaughan, one of eight students who died after a teenager opened fire, allegedly with his father's revolver and a shotgun, at Santa Fe High School on May 18. Hart told the AP that she was dissatisfied with Trump's condolence visit, which came just under two weeks later.
According to Hart, Trump kept describing the shooter and his trenchcoat as "wacky." She says she brought up some reform ideas to Trump, including increasing access to mental health care and stationing army veterans in schools to watch over students. When Trump asked whether she thought these veterans should be armed, she replied no, but says that he "kept mentioning" the idea of arming teachers.
"It was like talking to a toddler," Hart said.
Pamela Stanich, mother of the 17-year-old victim Jared Black, was more pleased with the president's visit. Trump "showed sincerity, compassion, and concern on making our schools safer across the nation," she wrote on Facebook afterward. "He spent time talking to the survivors and asking on what happened and what would have made a difference. Changes are coming for the good. Thank you Mr. Trump." Stanich says she gave the president a copy of her son's eulogy.
Trump spoke with over two dozen people in the meeting, which was held in private (and without press access) and lasted a little over an hour. White House spokesman Raj Shah told Fox News that the president's goal for the gathering was "to extend his condolences and talk about the issue of school safety."
The county's sheriff, Henry Trochesset said that Trump appeared genuine and emotional at the event, seeming to tear up at moments.
"He listened to what they said, he asked questions," Trochesset said of the shooting survivors. "He was concerned about what was going on with them, and the families. He listened to their ideas, how things could be maybe put in a place to change or prevent this from happening again."
Hart's criticism of Trump to the AP was relatively tempered compared to the harsher words she's been using on Twitter. On her way to the meeting on Thursday she castigated him for telling reporters that he was "going to have a little fun today" before getting on Air Force One to fly to Texas. "Yep," Hart tweeted, "Cause this is gonna be a d*mn carnival."
Hart told People magazine that she particularly stressed the idea of mental health reform in the meeting. She took issue with Trump calling the shooter "wacky," considering the term to be a cop-out when the teen could have been suffering from genuine mental health issues. The father of the shooter has told the press that his son was bullied at school; Hart suggested that he may have been suffering from depression.
She told Trump that the shooter might have "needed help" and noted that her daughter Kimberly had dealt with anxiety as well as Asperger's and attention-deficit disorder. She argued that the president shouldn't repeal the Affordable Care Act because it's an important source of mental health care for many. "I said all that and he didn't say anything," she told People. "He was just like, 'Uhhhh....'"
Hart tweeted directly at Trump during the meeting: "I would challenge you to a battle of wits, but I see you have come unarmed."
It should be noted that most mass shooters are not mentally ill. A New York Times analysis from February found that only about 22 percent of them suffer from mental health issues.