Trump Nominated An Out Lesbian Judge — After Picking A Bunch With Anti-LGBTQ Records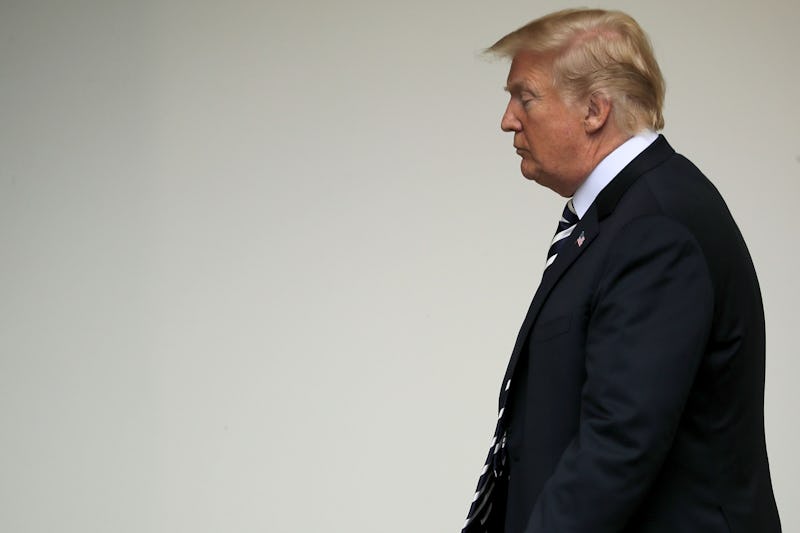 Chip Somodevilla/Getty Images News/Getty Images
President Trump has so far nominated over a hundred judges to serve on federal courts across the land. But on Thursday, HuffPost noted that Trump nominated Mary Rowland, a judge from the LGBTQ community — a first in the 18 months since he took office. And it's a definite departure from some of Trump's previous judicial nominees, many of whom have demonstrated an anti-LGBTQ bent over their legal careers.
If confirmed, Rowland will serve on the U.S. District Court for the Northern District of Illinois. As a lesbian woman, Rowland is the sole Trump-nominated judge from the LGBTQ community so far. She is currently the U.S. Magistrate Judge for the Northern District of Illinois.
Two of Illinois' most prominent Democrats, Sens. Dick Durbin and Tammy Duckworth, helped secure the nomination for Rowland, according to Huffington Post. Durbin and Duckworth created a screening committee to vet potential judicial nominees in order to offer recommendations about who was best qualified for federally-appointed positions.
A member of the Gay and Lesbian Bar Association, Rowland graduated from the University of Chicago Law School. Her legal career includes 12 years of private practice, another 10 years in the Chicago Office of the Public Defender, and a stint as a law clerk to a U.S. district court judge in eastern Michigan.
Responding to Trump's nomination of Rowland — along with two other Illinois nominees — Durbin released a celebratory joint statement with Duckworth.
The statement said they were "pleased that the President has nominated these three Illinoisans" and went on to highlight the nominees' "qualifications, integrity, and judgment to serve with distinction as district court judges." They also expressed gratitude for "the Administration's willingness to work with us and with our nonpartisan screening committee to reach consensus."
Still, as Jennifer Bendery writes at Huffington Post, Trump's nomination of Rowland doesn't negate the many judges he's previously nominated who hold anti-LGBTQ records. In her outline of those judicial picks, Bendery includes John Bush, who now sits on the U.S. Circuit Court of Appeals for the 6th District. Slate's Mark Joseph Stern described Bush as "perhaps Trump's most controversial nominee to the lower courts" for his record of anti-LGBTQ statements. Stern notes that Bush called for "outrage" in a blog post responding to gender-neutral language added to passport applications under the Obama administration. The judge also earned the ire of 27 LGBTQ-rights groups who signed a letter opposing his nomination.
On Thursday, Sen. Kamala Harris spoke up on the issue of Trump's many anti-LGBTQ judicial picks during a Senate Judiciary Committee meeting. As reported by the Los Angeles Blade, Harris recognized the progress that has been made toward equality for the LGBTQ community. However, she called out the committee for approving "many nominees who have fought against that progress at every step."
Harris specifically cited "a nominee who argued that a judge's impartiality should be questioned because the judge is in a committed, same-sex relationship." It appears Harris was referring to Howard Nielson, nominated by Trump for a federal judgeship in Utah. According to People for the American Way — a progressive advocacy organization — Nielson argued that a district judge should "throw out the original district court ruling striking down Proposition 8" because the judge who issued the order was herself gay. Proposition 8 was a California ballot measure that made same-sex marriage illegal.
Harris went on to say it was a "sad truth" that anti-LGBTQ bias was not a disqualifying factor for many of Trump's judicial nominees. Nielson was approved in February by the judiciary committee, and he now awaits a Senate vote.
Trump's nomination of Rowland is unlikely to much alter his reputation for promoting anti-LGBTQ judicial nominees. But it's still great news for Rowland and her many supporters in the Senate — and beyond.