Trump Officials Talked About "Reversing" A Teen's Abortion — Here's Why It's So Terrifying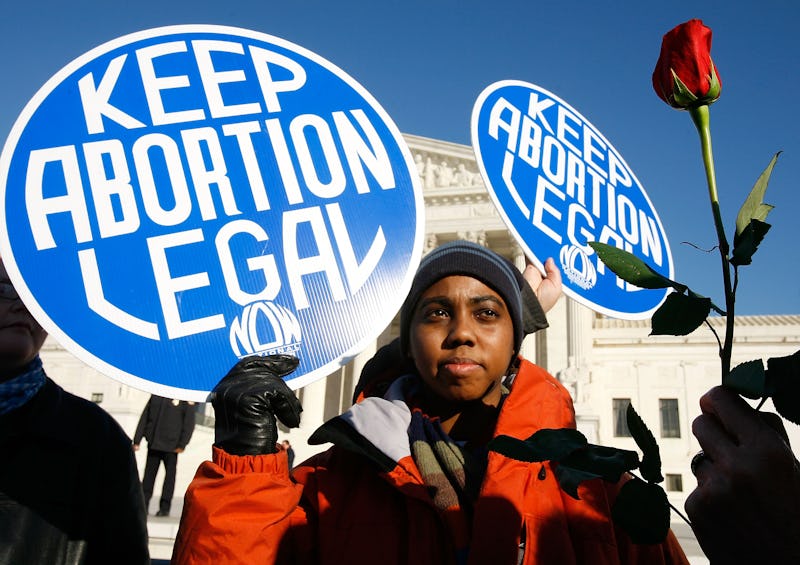 Alex Wong/Getty Images News/Getty Images
According to a Vice report on Wednesday, Scott Lloyd, the director of the Office of Refugee Resettlement (ORR), looked into whether it was possible to "reverse" the medication abortion of an undocumented teen in the agency's custody. But the idea that an abortion like that can be "reversed" is backed by no credible evidence or studies, and it carries dangerous consequences.
Vice reviewed a deposition from December that came from the American Civil Liberties Union's (ACLU) lawsuit against the administration for trying to deny the undocumented minor an abortion. Lloyd, according to the deposition, had reportedly discussed with his staffers the possibility of trying to "reverse" her abortion by using the hormone progesterone. The teen had taken the first of two pills as part of her medication abortion, and was delayed from taking the second pill. Meanwhile, the OOR sent an email to the shelter the teen was staying at with questions about using progesterone as a method to halt the medication abortion.
Progesterone is a hormone which is often heralded by anti-abortion activists as a method to "reverse" an abortion. It's so popular that anti-abortion activists in states like Arkansas, Utah, Arizona, and South Dakota have even called for abortion "reversal" legislation.
But there are no conclusive studies that found it's possible to do so — as Brigitte Amiri, senior staff attorney at the ACLU's Reproductive Freedom Project, tells Bustle:
There is no such thing as being able to reverse an abortion.
Amiri's point is corroborated by leading reproductive health care organization, Planned Parenthood, which also commented on the Vice report on Twitter.
There is no such thing as abortion "reversal." This is, plain and simple, the federal government putting a woman's health in danger, and interfering with a woman's constitutional right.
Time and again, the idea of such a method has been doubted, protested, and ultimately debunked. Two years ago, board member of National Association for the Repeal of Abortion Laws in Arizona Gabrielle Goodrick told Rewire:
You'd probably have to flood them with toxic levels of progesterone to even make an effect, which again is hypothetical. There is no medical data or any legitimate studies done to show this is effective.
The undocumented minor from El Salvador was detained at the U.S.-Mexico border and later found out she was pregnant. She tried to obtain an abortion, and released a statement saying that she was "not ready to be a parent." The administration fought against providing her access to abortion services, and was brought to court by the ACLU. In October, an appeals court ruled in her favor.
The administration's attempt to deny the teen an abortion sparked national outrage, though that did not stop it from attempting to deny other undocumented minors access to an abortion. Amiri tells Bustle the administration's repeated attempts to infringe on their right to a safe and legal abortion is "downright cruel."
We have not seen any prior presidential administration physically hold hostage unaccompanied immigrant minors to prevent them from accessing abortion. What we're seeing is off the charts in terms of being blatantly unconstitutional and just downright cruel.
The report about Lloyd considering "reversing" her abortion is also unprecedented, Amiri says. She tells Bustle it should be understood in the larger context of the future of reproductive rights for women in the United States.
I do think that this instance should be tied to the larger tactics that we have seen by the Trump administration with unaccompanied minors both in terms of coercion attempts [and] forcing minors to tell their parents in their home countries that they're seeking abortion. ... When these coercion tactics fail, [the administration] simply prevented them from leaving the shelter to access abortion.
There's a chilling theme here that needs to be analyzed, Amiri says, adding:
This is all a pattern of obstruction, interference, and the worst example of politicians inserting themselves in personal decision-making.