Trump Pardons Sheriff Joe Arpaio, Who Discriminated Against Racial Minorities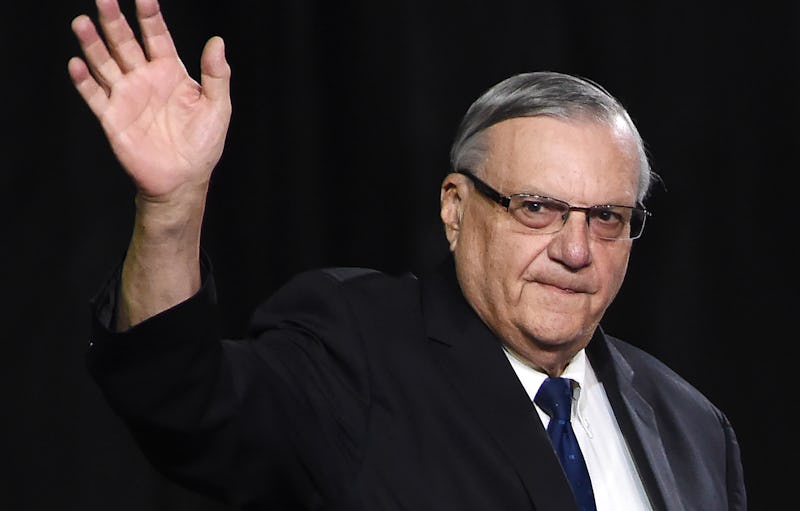 ROBYN BECK/AFP/Getty Images
In the middle of a Category 4 hurricane nearing the coast of the United States, President Trump pardoned Joe Arpaio, a controversial sheriff who was convicted of violating a court order regarding discrimination and profiling of racial minorities.
This is Trump's first presidential pardon. "Sheriff Joe Arpaio is now eighty-five years old, and after more than fifty years of admirable service to our Nation, he is worthy candidate [sic] for a Presidential pardon," Trump wrote.
In the statement announcing Arpaio's pardon, the statement also read, "Throughout his time as Sheriff, Arpaio continued his life's work of protecting the public from the scourges of crime and illegal immigration." However, this is exactly what was controversial about the former sheriff. He was found to have racially profiled many Latinos in Arizona and was ultimately found to have violated the Civil Rights Act. A federal court order to stop was issued, and when he continued with his methods anyway, he was found in criminal contempt of court and convicted.
Arpaio and Trump get along well — the former sheriff endorsed Trump as a presidential candidate early on in the campaign season, and they were both fellow "birthers" who asserted again and again that President Obama was not born in the United States and therefore ineligible to be president. This, of course, is not true.
Racial discrimination wasn't the only "controversial" thing about Arpaio. The Associated Press reported that Arpaio had — for three years — failed to adequately investigate (if he investigated them at all) more than 400 sex crimes, including child molestations, many of which affected undocumented immigrant children.
He also was known for neglect of the inmates in the jails he oversaw. He forced inmates housed in a "Tent City" to wear pink underwear in an attempt to embarrass them. At the tent jail — which was, of course, outdoors — it got so hot that inmates' shoes melted, ProPublica reported. "Tent City" has since been shut down.
In 2015, The Phoenix New Times found that the suicide rate in Arpaio's jails was 24 percent, well above the average at other county jails. Not to mention, the cause of nearly half of all deaths in his jails from 1996 to 2015 was listed as "no explanation."
Arpaio was convicted of misdemeanor criminal contempt in late July 2017 for defying a judge's order to stop targeting Latino drivers and to stop detaining people who had no criminal charges filed against them. The fact that this is the man Trump chose to use his first presidential pardon on ... well, just let that sink in.