Nancy Pelosi Is About Be The Most Powerful Official On US Soil For A Hot Second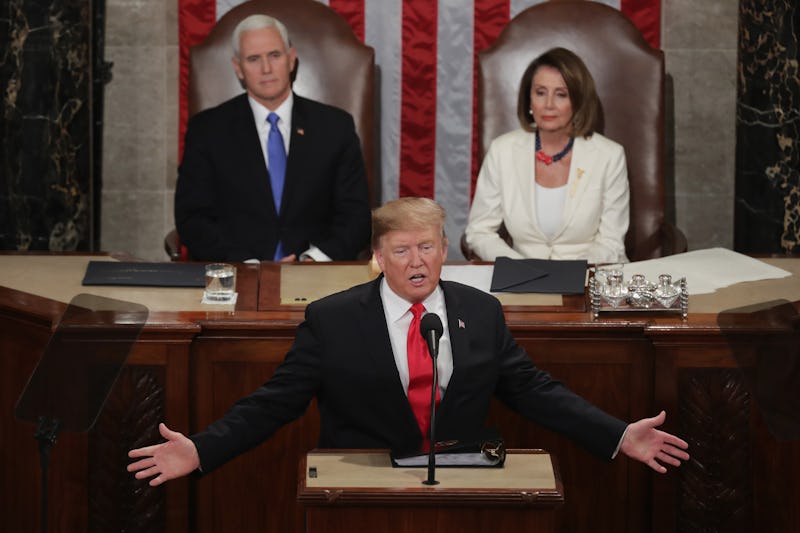 Chip Somodevilla/Getty Images News/Getty Images
For several hours next week, President Donald Trump and Vice President Mike Pence will be abroad at the same time, briefly leaving House Speaker Nancy Pelosi as the highest-ranking government official on U.S. soil. In what Axios described as a rare event, Trump and Pence will be overseas simultaneously for a few hours on Monday — something that the White House typically tries to avoid.
Citing three administration sources, Axios reported that Pence will be delivering a speech in Colombia on Monday, while Trump will be on his way to a summit in Vietnam, where he will meet with North Korean leader Kim Jong Un. Bustle has reached out to the White House for comment. It is not unprecedented for both the president and vice president to be overseas at the same time, but is considered bad practice in case a domestic crisis takes place while they are away.
"It's rare and unusual, and usually they try to avoid it," presidential historian Michael Beschloss told Axios.
As Axios pointed out, however, it takes roughly five hours to fly from Colombia back to the U.S., so Pence could conceivably return with minimal delay if absolutely necessary. A spokesperson for Pelosi told Newsweek that while it is rare for the Speaker of the House to be the top-ranking official on U.S. soil, it will not alter her duties in any way. Pelosi will be in New York on Monday morning and Washington, D.C., that afternoon, the spokesperson told Newsweek.
The only way Pelosi's duties could change, Axios reported, would be if the president or vice president were incapacitated in some way during their trip overseas. One example of this would be if Trump or Pence required medical surgery while abroad, which could theoretically result in the government's line of succession being invoked. But both Trump and Pence are equipped with nuclear codes and secure communication channels when they travel, per Axios, which would make it possible for them to respond in case of a crisis.
Monday will not be the first time that Trump and Pence have been abroad the same time. At the beginning of December, Trump was in Argentina for the G20 summit while Pence was attending the inauguration of Mexican President Andrés Manuel López Obrador, Axios reported. And less than a month before that, Trump was returning from an Armistice anniversary celebration in France while Pence was on his way to Asia for meetings with regional leaders. Nonetheless, the news that the president and vice president will both be abroad at the same time has sparked some amusement on social media:
Trump and Pence aren't the first set of American leaders to venture overseas at the same time. Back in 2013, former President Barack Obama was on his way to Israel while former Vice President Joe Biden was on his way back to the U.S. from Rome. At that time, a White House spokesperson told reporters that their simultaneous absence would not trigger a succession crisis, noting that Obama and Biden remained president and vice president wherever they went.