Here's What You Need To Know About Trump's New Pick For Attorney General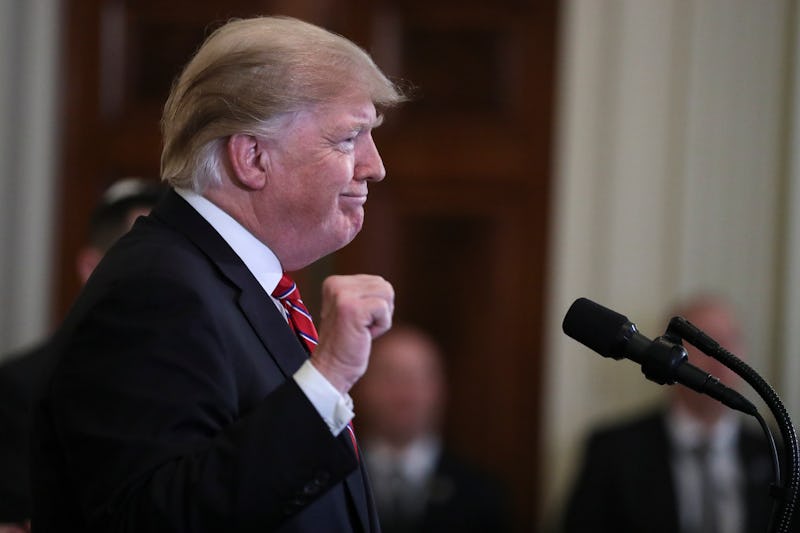 Pool/Getty Images News/Getty Images
On Friday morning, President Trump announced that he's nominating William Barr to serve as attorney general. Barr will replace acting Attorney General Matt Whitaker, and unlike Whitaker, Barr, who was attorney general under George H.W. Bush, will bring decades of experience to the job. Here's what you need to know about the man set to become the second permanent head of the Justice Department in the Trump administration.
Barr joined the White House in 1989, when Bush appointed him assistant attorney general for the Department of Justice's Office of Legal Affairs. He became deputy attorney general the next year and briefly served as acting attorney general until late 1991, when Bush nominated him to serve as attorney general proper. He was confirmed in two days.
Make no mistake about it: Barr is very conservative. During his career in government, he has promoted policies to increase prison sentences, stop illegal immigration from Mexico, and investigate gang violence. Six months into his stint as attorney general, The New York Times said that the "central theme" of Barr's legal career was the belief that "violent crime can be reduced only by expanding Federal and state prisons to jail habitual, violent offenders."
At the Justice Department under Bush, Barr reassigned 300 FBI agents who'd been working on counterintelligence matters to investigations into gang violence; according to The Times, this was the largest single shift of manpower in the history of the FBI. He also pledged to fight court orders intended to prevent overcrowding in prisons, a reversal of a longstanding Justice Department policy.
After leaving the Justice Department, Barr helped then-Virginia Gov. George Allen craft a harsh anti-crime law that abolished parole in the state, greatly reduced inmates' ability to have their sentences reduced for good behavior, and increased sentences for violent and repeat offenders. The law did not contain any prevention programs; when asked why, Barr told The Washington Post that "the most effective method of prevention is to take the rapist off the street for 12 years instead of four."
In recent years, Barr has been a loyal supporter of Trump, whom he endorsed in the 2016 campaign. Late in the election cycle, Barr defended former FBI Director James Comey's letter to Congress, a letter that some argue cost Hillary Clinton the presidency, and later wrote that Trump "made the right call" in firing Comey. Barr also said that the FBI should investigate Clinton over the so-called Uranium One scandal, a debunked conspiracy theory popular in conservative media.
During his second stint as attorney general, Barr will have authority over Robert Mueller's Russia investigation. Incidentally, this will be the second time Barr is Mueller's boss, as Mueller led the Justice Department's criminal division when Barr was attorney general under Bush.
Barr has offered mixed assessments of the Mueller probe. He expressed confidence in Mueller early on and said that the investigation wouldn't become a "witch hunt," according to CNN. However, he later voiced concern when it was reported that several members of Mueller's team had donated to Democratic politicians in the past, saying in July 2017 that "prosecutors who make political contributions are identifying fairly strongly with a political party, and that "I would have liked to see [Mueller] have more balance on this group."
If past is any indicator, Barr will have no problem being confirmed: When Bush appointed him to the post in 1991, he sailed through his hearings in two days and was confirmed through a voice vote.