Trump Exits The Paris Climate Accord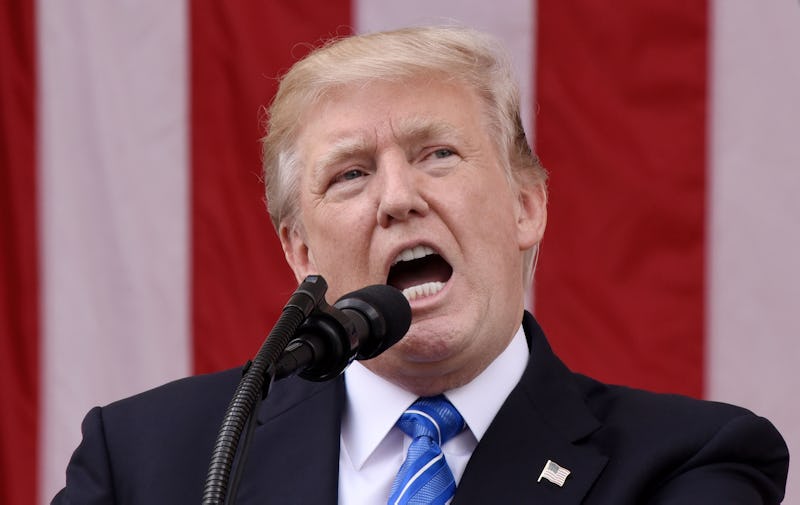 Pool/Getty Images News/Getty Images
On the heels of reports that President Trump would withdraw from the Paris climate accord, numerous outlets reported having seen the White House documents confirming Trump's decision. The official announcement that the U.S. would no longer be a part of the 2015 pact will come on Thursday at 3 p.m. EST. The non-binding accord, which brought together nearly 200 countries, outlines a plan for the reduction of emissions that scientists say are harmful to the environment.
The climate treaty was ratified by the U.S. and China in 2016, when Barack Obama was still president. Those nations' cooperation was seen as crucial to the success of the pact, as the U.S. and China are two nations that produce much of the world's noxious emissions; China is responsible for just over 20 percent of global emissions, while the U.S. is accountable for about 18 percent, according to United Nations statistics.
According to a report in Axios, which broke the news of Trump's reported climate change pact decision, Trump was influenced by a letter from 22 leading Republican senators, including Senate Majority Leader Mitch McConnell. The GOP members' note to Trump said that if the president wished to go through with his desire to scrap the Clean Power Plan, "those advocating for greenhouse gas regulations will use the Paris Agreement as a legal defense against your actions to rescind the Clean Power Plan."
But the president's denial of climate science is more than a political necessity; Trump has called climate change a hoax, both before and after his election to America's highest office. In 2012, for example, Trump tweeted an alarmist conspiracy theory about climate science, saying that "global warming was created by and for the Chinese in order to make U.S. manufacturing non-competitive." In a 2014 tweet about climate change, Trump said: "This very expensive GLOBAL WARMING bullshit has got to stop. Our planet is freezing, record low temps,and our GW scientists are stuck in ice."
Trump and his advisors who urged him to withdraw from the accord — EPA head Scott Pruitt, chief strategist Steve Bannon, and White House counsel Don McGahn — are determining whether to formally leave or simply exit the U.N.'s climate change treaty. The former option would take up to three years whereas the latter would be a faster, but more extreme option.
Prior to Trump's final decision, his administration had been divided about whether or not to remain in the Paris pact. Supporters of staying in the accord were Trump's daughter Ivanka, her husband Jared Kushner, and Secretary of State Rex Tillerson, among many others. Now that it's been announced Trump will pull out of it, the aftermath could be catastrophic.