All The Times Trump Swore Blind He'd Stand Up For LGBTQ Rights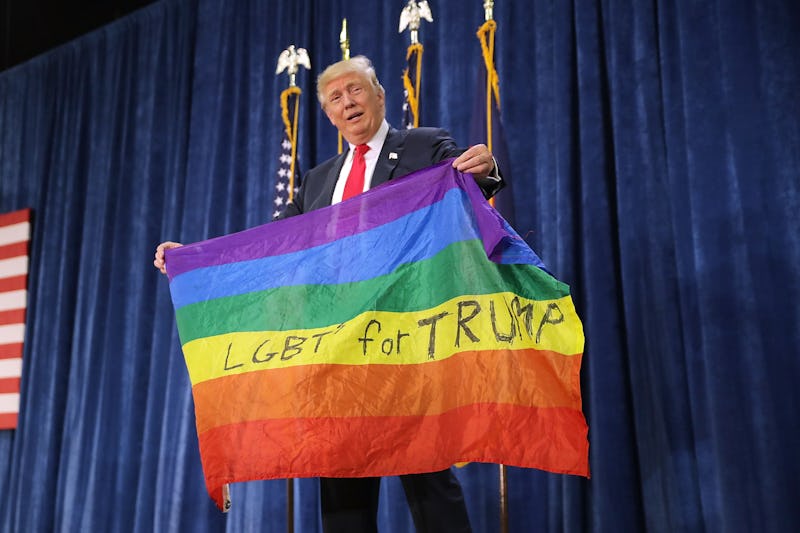 Chip Somodevilla/Getty Images News/Getty Images
Donald Trump's stance on LGBTQ rights has been a bit confusing. But no matter how you slice it, there are numerous times when Trump swore he'd protect LGBTQ rights — promises that, like so many others, he seems to be conveniently forgetting now in light of his ban on transgender individuals serving in the military.
During the campaign, Trump positioned himself as a slightly more liberal Republican candidate when it came to LGBTQ rights. He claimed to support same-sex marriage sometimes, and other times he said that it should have been left up to the states. He declined to comment decisively on North Carolina's infamous bathroom bill, instead merely saying that it was a "very strong" move on the state's part. Well before his 2016 run for president, he said that he wanted gay people to have the same legal protection — and then in 2016, he told Fox News that he would consider appointing a Supreme Court Justice who didn't support same-sex marriage. And then, of course, he appointed Neil Gorsuch, who has so far made one decision indicating that he is not pro-same sex marriage.
Trump's words, as it has become abundantly clear, mean far less than his actions as president. With his proposed transgender military ban, then, he's breaking the promises he made to the LGBTQ community and going against his professed support for them.