Bannon Has Reportedly Been Taken Off Trump's…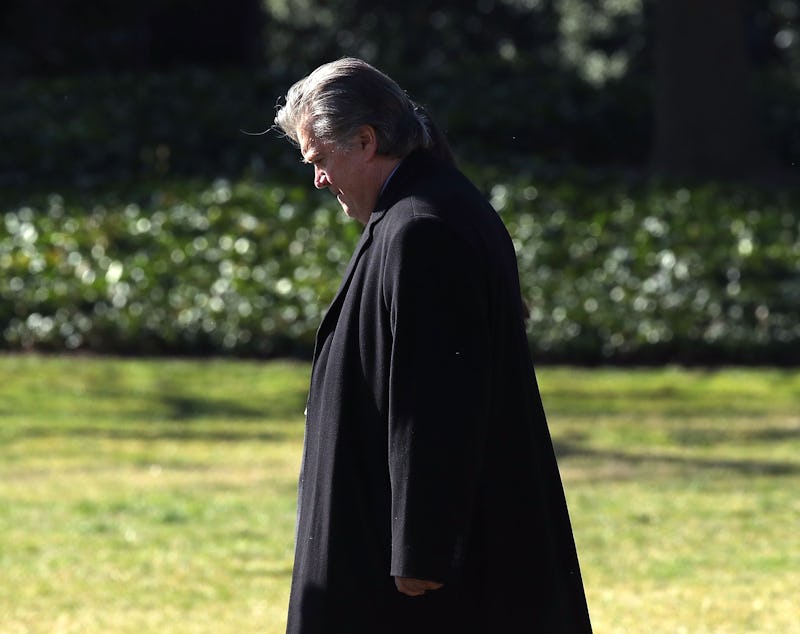 Mark Wilson/Getty Images News/Getty Images
President Trump has taken White House chief strategist Steve Bannon off his National Security Council (NSC), according to a report by Bloomberg News. Additionally, Trump has also reinstated Dan Coats, the national intelligence director, and Marine Corps General Joseph Dunford, chairman of the Joint Chiefs of Staff. Those two positions had traditionally been seated on the NSC, but were replaced at the beginning of Trump's presidency.
That Bannon ever had a place on the NSC was a point of sharp criticism for the Trump administration. As explained by Glenn Thrush and Maggie Haberman for The New York Times, the choice of Bannon was a "... startling elevation of a political adviser, to a status alongside the secretaries of state and defense, and over the president's top military and intelligence advisers." The chocie was one made even more controversial by the divisive legacy of Bannon himself. His tenure serving as CEO of Breitbart News saw the media outlet gain notoriety for its breathless and often offensive headlines and content. Bannon himself envisioned the right-leaning outlet as a "platform for the alt-right," a group that included white nationalist figure Richard Spencer.
Close observers of White House politics may have predicted such a changeup. A few weeks ago, reports surfaced that Trump had not been "fully briefed" on the content of the executive order he signed giving Bannon the NSC seat in the first place. In fact, it appears that Trump was even more frustrated with the subsequent outcome of that executive order than he was the disastrous rollout and judicial rebuke of his attempted travel ban.
Part of the problem seemed to lie in Trump's early reliance on a small group of mostly political outsiders, none of whom displayed much knowledge about how a White House actually functions on a day-to-day basis. It looks like Trump is trying to amend at least one of his hasty executive orders to better represent his actual desire for the NSC.
For plenty of Americans, the removal of Bannon will come as a relief. After leading a website that published content many condemned as anti-Semitic, racist, and sexist, Bannon was always a controversial figure. In fact, following his original White House appointment as chief strategist, protests were staged specifically against Bannon himself.
Bannon has since released his own statement, saying, "Susan Rice operationalized the NSC during the last administration. I was put on to ensure that it was de-operationalized. General McMaster has returned the NSC to its proper function."
It appears Bannon has been briefed on his removal and has expressed his rather unemotional take on it.
More to come...