Trump Reportedly Wants Ivanka & Jared Kushner Out Of The White House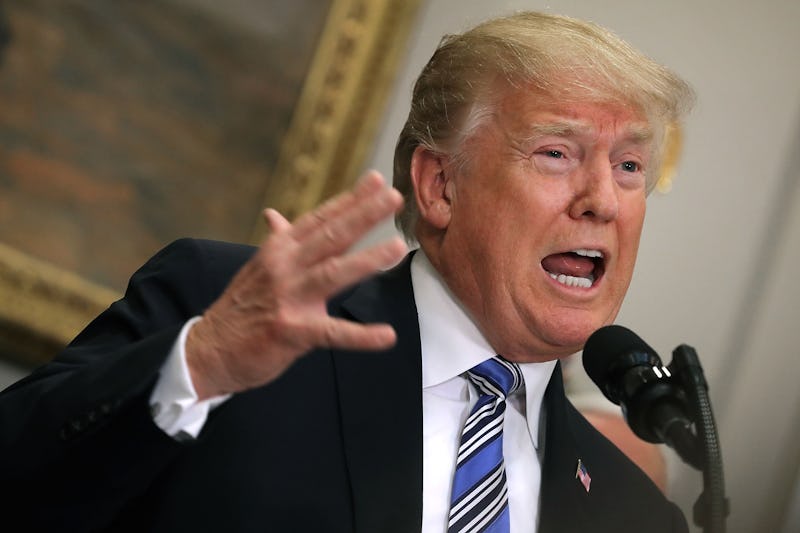 Chip Somodevilla/Getty Images News/Getty Images
It sounds as if things aren't very harmonious in the halls of the White House. To the contrary, President Donald Trump reportedly wants Ivanka and Jared Kushner out of the administration, as part of a rumored upcoming staff overhaul. That's what White House sources told Vanity Fair's Gabriel Sherman this week, suggesting that Trump is fed up with being controlled, and wants to start things over anew.
According to the report, the next high-profile departures could be chief of staff John Kelly and national security adviser H.R. McMaster, both former military men who Trump has reportedly clashed with over the course of his first year in office. McMaster joined to replace former national security adviser Michael Flynn in Feb. 2017, and Kelly left his job as head of the Department of Homeland Security to become chief of staff in July 2017. The White House has frequently downplayed and disputed reports suggesting the president has lost confidence in McMaster and Kelly.
Even if Trump were to fire or demand the resignations of McMaster or Kelly, however, pushing his eldest daughter and her husband out of the administration would be an additional surprise. Trump, throughout his campaign and the early part of his administration, has kept the pair in pretty close proximity to him, and they've assumed much bigger and more influeuntial roles than is common for the relatives of a sitting president.
The upshot, at least as it regards Ivanka and Kushner ― the pair are occasionally dubbed "Javanka" by the press ― is that having lost their security clearances, and thanks to ongoing investigation into some of Kushner's business and governmental dealings, both of them have seen their influence and effectiveness diminished. The Vanity Fair report is sourced to "five Republicans close to the White House."
If Trump did move to push his daughter and son-in-law out of the administration, it would bring to an end one of the most criticized and scrutinized power duos in recent Washington, D.C. history. Their involvement in the federal government was controversial from the moment it began, drawing accusations of nepotism from critics.
One reason Trump might like Ivanka and Kushner to move on to other ventures is that they've been getting progressively less popular among the American public as their time in the administration has gone on.
As Newsweek detailed on Thursday, a recent poll from YouGov/The Economist shows that while Ivanka's approval ratings are basically unchanged since last year, with 42 percent of Americans viewing her positively, the number of people who take a negative view of them has jumped by ten points, from 33 percent to 43 percent.
The numbers are even worse for Kushner. In Jan. 2017, a mere 25 percent of Americans viewed him favorably. That number has reportedly since dropped to 22 percent, while the percentage of Americans who view him unfavorably has leapt from 29 percent to 43 percent. In short, both halves of Javanka are dealing with some image problems, at least that's what the polls suggest.
Although the names in this case would certainly be unexpected, it would in no way be shocking or unprecedented for Trump to shake up his staff. To this point in his first term, Trump's administration has seen more turnover than any other presidential administration in the modern era.
The frequent resignations, firings, and new hirings have kept the Washington political class in a regular state of uncertainty about what might be about to happen next. That's a worthwhile reminder to use some caution when it comes to trying to predict the next move of the White House, however ― nothing's actually official until it's publicly announced, after all.