Trump Wants Jared Kushner To Head A New White House Office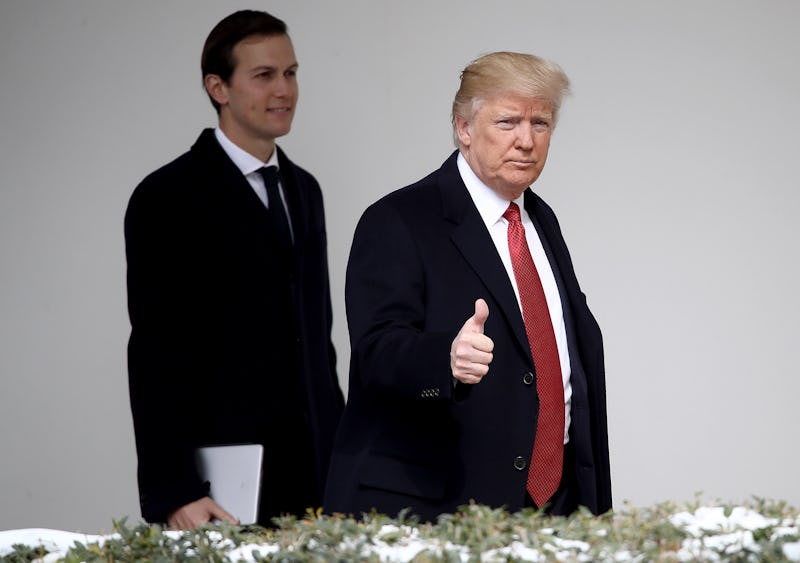 Win McNamee/Getty Images News/Getty Images
According to The Washington Post, President Trump wants Jared Kushner to lead a new White House office aimed at overhauling the federal bureaucracy and infusing the executive branch with ideas from the "business world." The new office may also be responsible for privatizing parts of the American government, the Post reported.
"The government should be run like a great American company," said Kushner, Trump's son-in-law and one of his most trusted advisors, in an interview with the Post. "Our hope is that we can achieve successes and efficiencies for our customers, who are the citizens."
The White House Office Of American Innovation, as it will be called, may be unveiled as soon as Monday. The office has reportedly already held over 100 brainstorming sessions with business leaders, including Tim Cook, Bill Gates and Elon Musk. The Post says that it's being characterized internally as "a SWAT team of strategic consultants," although it's unclear in what sense SWAT, a term reffering to militarized police officers (the acronym stands for "Special Weapons and Tactics"), is similar to the new government entity.
One task the office will reportedly focus on is overhauling the Department of Veterans Affairs, which has been plagued by scandal for years and was singled out by Trump during the campaign as a target for reform. Other priorities are said to include modernizing technology in federal agencies, updating workplace training programs and fighting opioid abuse. In some instances, the office may have the authority to order that certain executive branch functions be privatized.
The new office hasn't yet been fully staffed. However, the Post reported that neither Steve Bannon, Trump's other high-profile senior advisor, nor Ivanka Trump, Kushner's wife and a West Wing officeholder, will have a formal role in it.
Many presidents have sought to increase efficiency by restructuring elements of the executive branch. During his presidency, Richard Nixon attempted to circumvent interagency bickering by shifting foreign policy decision-making from the departments of State and Defense to the White House. Ronald Reagan established a task force to "attack fraud and waste in government programs and operations," while Barack Obama created the position of Chief Performance Officer and a corresponding Performance Team to "improve results and outcomes for federal government programs while eliminating waste and inefficiency." Incidentally, Obama's transition team also used the phrase "SWAT team" to describe the group in question.
In addition to increasing government efficiency and tackling elements of Trump's agenda, the office will also strive to act as an intermediary between the White House and America's business, philanthropic and academic communities, according to the Post.